2023: APGA Nat'l Decries Insecurity, Says Party Best Alternative For Nigeria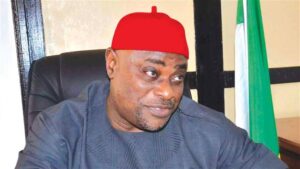 Dr Victor Oye
Dr Victor Oye, National Chairman of the All Progressives Grand Alliance (APGA) says the party is the best option to form the next national government of Nigeria in view of the current economic and security challenges in the country.
Oye who spoke to Journalists in Awka said APGA was the only party with people oriented, welfarist and national orientation party and called on Nigerians to de-emphasise the so-called big parties that have shortchanged and divided them.
APGA has worked seriously to position itself as the party to beat the next general election in spite the fact that the rush for it's ticket is not as much as was obtained in the All Progressives Congress and Peoples Democratic Party.
According to him, it is God that makes kings, if God crowns you, you are a king, so when the time comes, Nigerians will know that APGA is the best party to save Nigeria.
"We are a people oriented political party with a clearcut ideology, we are focused and welfarist in approach.
"Our programmes are targeted at lifting people from poverty to prosperity, we have moved from one time regional party to a real national party, with good results," he said.
Oye decried the insecurity and wanton killings in every part of the country.
The chairman said the situation in the Southeast on social dislocation as a result of poverty, unemployment, exclusion and but pointed out that killings under any guise was not acceptable nor justifiable.
He said human life was sacred and should be protected adding that nobody should take life but urged that rule of law should be allowed to run its course.
"For me, what is happening in the Southeast is strange, our people are not known for cannibalism and violence, it crept in from nowhere.
"I am confident that it will come to an end one day because nothing lasts forever. I am not a security expert but know God will intervene.
"We call on all to sheathe their swords, embrace one another, work together as one people, unity of this country.
"We should know that life is sacred and nobody has the license to take the life of another," he said.
Oye said there waa no confusion about the leadership of the party as the Supreme Court had decided on the suit between one Chief Jude Okeke and himself with APGA in his favour.
He said Chief Edozie Njoku was not a party in the suit and described his claim to the national chairmanship of the party as an effort to hoodwink the public.
He expressed worry the imaginary crisis came up every every election year because the people wanted to take undue advantage of politicians who were desperate for political office.
According to him, the Supreme Court judgment of Oct 14 was unambiguously dismissed Jude Okeke's case and a cost of N1 million was awarded to me and APGA respectively.
"These people went and doctored Supreme Court documents, up till now, the Supreme Court has not served us, so where did these people get the document they are parading?
"The security agencies should go after these people and ask them questions, the law must take its course on this matter," he said.
Oye called on the media to help educate the masses and not give prominence to impostors to avoid losing their hard earned money