Oye Hails Supreme Court Order On APGA leadership, Insists Njoku An Impostor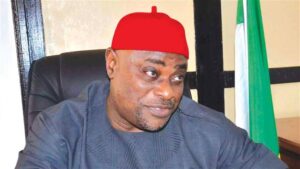 Dr Victor Oye
 Dr Victor Oye, National Chairman of the All Progressives Grand Alliance (APGA) commended the Supreme Court for clearing the air on the debate over the authentic leadership of the party.
Oye in a Statement made available to Journalists in Abuja on Friday said the Apex Court made the clarification in an Order.
He said the order of Supreme Court's final Judgment on the leadership of APGA in Appeal No CV/SC/687/2021 was was released to the party on May 26 of
Oye said the Supreme Court document showed that Mr Edozie Njoku was not a party to the suit and that his name was 'fraudulently' inserted  as a Respondent in the Judgment of the Supreme Court in CV/SC/687/2021.
Oye said the inclusion of Njoku's name should be a subject of criminal investigation.
The party said the Order of the Court showed that Oye was the 2nd Respondent and that Mr Edozie Njoku's motion was overtaken by events and struck out by the Apex Court. 
"The Supreme Court has exposed the parties to the Suit and all the orders of the Court in its final Judgment and put an end to the controversy on the issue of who the Judgment  of the Court favored. 
"With the release of the Order of the Supreme Court, APGA is calling on the Security Agencies to investigate this grave  atrocity and bring all those responsible to book.
"This finally puts  to rest the  issue of who the national chairman of APGA is and  invariably subjects any other impostors at the risk of criminal litigation," it stated.