Awka Roads Have Collapsed, Can't Wait Until Dry Season…  Residents Tell Gov Soludo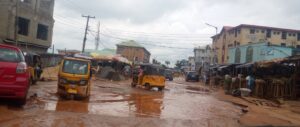 Oby Okoli Street
 Some residents of Awka, the capital town of Anambra have called on Gov. Chukwuma Soludo to apply quick-fix-measures on failed portions of inter-city roads.
Some of them who spoke on to journalists said they movement within the capital town may no longer be possible if urgent measures were not taken to fix them.
The residents were making the appeal in response to the 100 days in office broadcast of Soludo where he said that all road construction work would commence after the rains.
They said apart from damaging their vehicles and inhibiting their economic activities, the condition of the roads had resulted to astronomical increase in transport fares.
They listed Unizik junction,  Goodwill junction and Y junction all on the Unizik junction-Isuanocha Road, Old  INEC Road and the road connecting Goodwill junction to Arroma junction through Retreat Centre as some of the sports that demanded urgent attention.
They also identified Ukwu-Aki Road (behind Government House), 1st Market Junction on Ifite Road and Nya Ranch Road by Government House, amongst others.
Goodwill Junction
Mr Jude Onyia, a resident of Okpuno village said they had almost been cut off from other parts of the capital town due to lack of access roads.
He said the road leading to Okpunu through St Gabriel Catholic Church was no longer passable while the route through Y-junction was getting blocked by potholes and waste dumps.
He said " we need urgent help, we can't wait for the end of the rain because we are almost cut off, it is an emergency.
"This Goodwill junction is the only place that connects the entire Mgbakwu, Isuanocha, Urum, Okouno, Amanuke and other community to the town but you can see that both the junction and the two roads leading to it are in very bad shape," he said.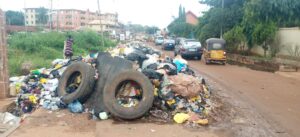 Y-junction area
Mrs Gloria Udu, a business owner in the area said their household economies were under serious threat because of poor patronage.
Udu said the bad condition of the road and heavy flooding had diverted both human and vehicular traffic and that some shop owners had suspended their businesses.
According to her, we are having serious challenges here, it is difficult for people due to bad roads, and the manageable parts have been taken over by refuse.
"We are calling on the governor to do something urgent before one he is planning to do it during the drying season. Businesses are suffering and we are afraid of our health," she said.
A tricycle operator who chose not to be mentioned said the condition of the road was putting pressure on their businesses as they now spent more money on repairs.
He said now plied a longer route to get to their destinations and that they had increased their fares minimally to cushion impact.
"The roads are bad, you know Goodwill junction is a major point, from here we go to Aromma, Unizik Junction and Regina junction but the roads to these places have gone bad, we no longer pass some again.