Anambra Lauds NYSC For Promoting Unity Through Culture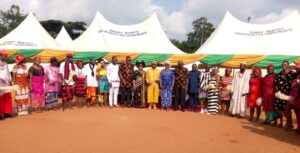 Officials of NYSC in Anambra with some guests
 The Anambra Government has commended the National Youths Service Corps (NYSC) for promoting Nigeria's unity through its various programmes including culture festival.
Mr Don Onyenji, Commissioner for Culture, Entertainment and Tourism said this during the Cultural Festival organised for members of 2022 Batch B stream 11 at the Permanent Orientation Camp, Mbaukwu/Umuawulu in Anambra.
Onyenji said the ease with which the corps members learnt and exhibited the different cultures in Nigeria across 10 platoons was an indication that youths were willing to accept and respect each other for who they were.
He blamed the tension in the society on the political elite who were bent in dividing the youth along religious and ethnic lines for selfish political gains.
"This is a very good programme by the NYSC, the cultural displays showed that, somehow, they are interwoven, they are about peace, hospitality and cordial cohabitation.
"The crisis you see today are creations of the elite and political class who want to score cheap political points, but they are absent in the way these youth have interacted here," he said.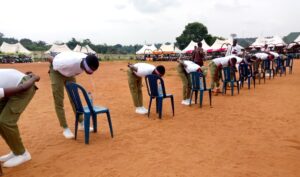 Corps members during a competition
Onyenji  assured the corps members of hospitable reception wherever they were posted for their primary assignments while urging them to contribute to the development of Anambra and learn from the entrepreneurial drive of the people.
In her remark, Mrs Blessing Iruma, the Coordinator of NYSC in Anambra commended the corps members for their speedy understanding and adaptation of the various cultures.
Iruma advised them to be good ambassadors and respect the ways of the people they found themselves with in the course of the service year.
HRH, Igwe Ben Chukwuemeka of Umeri Community welcomed the corps to Anambra and gave then his royal blessing as they prepare to leave the camp for community services.