Archbishop Ibezim Donates Food, Cash To Retired Catholic, Anglican Priests, Orphanage At Diamond Jubilee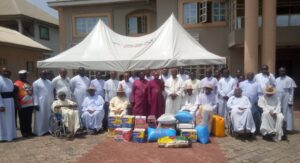 Ibezim with some old Catholic priests
His Grace, Most Revd Alexander Chibuzo Ibezim, the Archbishop Ecclesiastical Province of the Niger and Bishop of Awka Diocese, has donated gift items to some retired clergymen and orphanage children as a part of activities to mark his 60th birthday anniversary.
A Statement issued by Dr Emeka Odogwu, Director Media and Communications, Diocese of Awka and Province of the Niger on said Ibezim visited the Catholic Priests' Welfare Home, Aquinas Catholic Church Awka to deliver the items.
Archbishop Ibezim also donated a bag of rice and cash each to retired Anglican priests Emmaus House, Awka for devoting their lives to the service of God and the church.
Odogwu said Ibezim accompanied by his wife, Mrs Martha Chioma visited Faith Community Children's Home, Awka where he donated food items and writing materials to support the managers in training the children.
"His Grace, Archbishop Ibezim said the gesture was in the spirit of ecumenism and to celebrate his old colleagues who are no longer in active service.
Odogwu said Most Revd Paulinus Ezeokafor, the Catholic Bishop of Awka Diocese received the food items on behalf of the Old Catholic Priests.
"Bishop Ezeokafor commended Bishop Ibezim for remembering to visit the retired priests adding that the gesture alone was enough to reassure them that they were still important members of the church and society.
"Ifeoma Agu, the manager of Faith Community Children's Home, also wished His Grace a happy birthday and thanked him for the gifts while praying that God will enlarge his coast to give more to the church and society," he stated.
In a related development, Gov. Chukwuma Soludo has sent his goodwill message to Archbishop Ibezim on his Diamond Jubilee.
Soludo in a Statement signed by Mr Christian Aburime, his Press Secretary also congratulated the Archbishop on his three years of Archiepiscopacy, 12 years episcopacy, and 38 years of service in God's vineyard.
"I commend the exemplary leadership you have provided over the years as an Anglican Prelate and your pious devotion to the service of the Lord."
"On behalf of my family, the government and people of Anambra State, I congratulate you most warmly and also deeply appreciate the support you have provided to my administration in our journey towards building a liveable and prosperous homeland."
"I pray that God will grant you grace, good health, long life and more wisdom in the years ahead," it stated.
.