Mekon FC Win Anambra Independent Football League season 6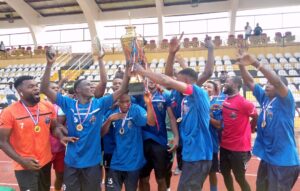 Mekon FC players with Trophy
Mekon FC of Umunze have emerged winners of the Anambra Independent Football League (AIFL) season six which ended on Saturday.
Mekon were crowned champions after an emphatic 3-0 win against Bubendorf FC of Ada-Anj in a game decided at the Awka township Stadium Football pitch.
Odinka Christopher opened scorings in the 10th and 35th min to seal a brace while Kelechi Nebedum completed the tally with 39th min strike from a spot kick around 20 yards from the goal area.
In other games decided earlier, Hopeland FC of Nnewi thrashed Cardinal Arinze FC of Onitsha 3-0 while Peace FC of Awka walloped Obeledu United of Obeledu 4-1 to emerge second on the final table.
Chukwuemeka Afusi, proprietor of Mekon FC who spoke after his team handed the cup over to him said AIFL was a huge intervention in the development of football not just in Anambra but the entire country.
He commended his players for their fighting spirit and the achieving the rare feat of winning the amateur league title.
Afusi who is also the managing director if Mekon Sports Wear, an England based company promised to provide more support for the team and also expressed his readiness to partner AIFL in season seven.
On his part, Rev. Fr Obinna Dike, chairman of AIFL thanked God for successful completion of the season which had run consistently since 2017.
He described football administration in Nigeria as herculean but thanked Bishop Paulinus Ezeokafor of Catholic Diocese of Awka for his spiritual, moral and financial support which had contributed largely to its success.
Dike congratulated members of AIFL management, club owners and players for their various roles while assuring that next season would be bigger and better.
AIFL is an independent football league is an honest project by independent clubs in Anambra.