Ezeonwuka Wants Unification Of New Yam Festival In Igboland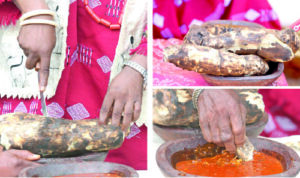 Iwa Ji festival
Chief Rommy Ezeonwuka, the spiritual leader of the Igbo nation has advocated for a unified date for the celebration of the New Yam (Iwa Ji) festival across the SouthEast states and other Igbo speaking areas.
Ezeonwuka who is the Managing Director of Rojenny Stadium and Games Village told journalists in Awka on Monday that there was need for Ohanaeze, the umbrella socio cultural organisations, and other stakeholders including state governments to work towards harmonising the festival.
He said yam was a very significant crop and a unifying crop among the Igbo which should be accorded all the respect it deserved and New Yam festival should be celebrated on a universal date just like Christmas do for Christmas.
Ogilisi Igbo as he is popularly known, said the purpose of the one day all Igbo celebration of Yam was to add value to the annual festival in using it to promote Igbo culture.
He said if implemented, the unified New Yam festival would revive ancestral goodwill on fertility and good harvesting including security, peace and progress generally.
"If every State in Igboland organise it on the same day like Christmas with the support of the State government, companies and notable personalities, it would attract economic dividends in the areas like entertainment and tourism.
"New Yam festival is a good platform just like Christmas, the Igbo should come together and look at how it cam be celebrated on the same day, just the way Christmas celebrate Christmas.
"Each State can use the occasion to bestow honors, awards and titles to deserving sons and daughters who have distinguished themselves in their fields of endeavor and contributed to the wellbeing of humanity.
"New Yam festival is popular among Igbo people and is a platform to bring them together but the festival has been reduced to an amateurish exercise with every Tom Dick and Harry who pay attention to the significance," he said.
He said one day New Yam festival proposal should be discussed, agreed by traditional institutions, town unions and ratified by the various State the Houses of Assembly.