Ozalla FC Beat Hopeland FC TO Lift YSFON U17 Football Cup IN Anambra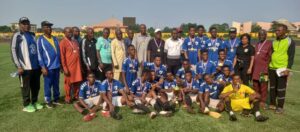 Victorious Ozalla FC
Ozalla FC of Onitsha have emerged champions of the 2022 edition of the Youth Sports Federation of Nigeria (YSFON) U-17 Igwe Nanka football championship in Anambra.
Ozalla beat Hopeland FC of Nnewi, 2-1 in the final match played at the Awka Township Station Football pitch on Sunday to clinch the trophy..
Hopeland had gone ahead with a goal by Joshua Joshua in the opening half but a brace by Ukochukwu Chukwuebuka of Ozalla in the second half canceled and sealed the game for his team.
In the third place game, Aguata Grassroots FA walked over Soccer Stars FC, Onitsha to emerge third place winners.
Joe Akabuike, the Chief Medical Director of Chukwuemeka Odumegwu Ojukwu University Teaching Hospital (COOUTH) in his remark called on sportsmen to obtain medical advice to ensure they were fit for exercise.
Akabuike thanked HRH, Godwin Ezeilo, the Traditional Ruler of Nanka town for agreeing to sponsor the competition as well as the organisers for providing the platform for youths to exhibit their talents.
The CMD who waa the Special Guest at the event said football like other sports not only gives fame and fortune but physical activity that breeds healthy living.
He encouraged people of all ages to engage in physical exercise that is commensurate with their abilities but pointed out that they should seek medical counseling before embarking on such activities to prevent unpalatable outcomes.
According to him, sports are synonymous with life, when the body is kept without physical activity, it tends to cause several illnesses, sports also helps to relieve tension for the players and those watching games like football, it also keeps youths gainfully busy.
"There is no basic minimum exercise for anybody, it has to do eith the individual's strength, what is important is that there is physical fitness which doesn't have anything to do with age,
"Whichever exercise anybody does, a doctor should advise him, anybody who has an underlying illness like heart problem irrespective of the age can still die when you subject the heart to sudden challenges and it fails to respond," he said.
Akonam Obiefuna, chairman of YSFON in Anambra thanked God for the successful completion of the 5-week long soccer fiesta.
Obiefuna appealed to sports loving individuals, corporate bodies and traditional institutions to partner with YSFON to keep youth in the state engaged.