Anambra Based Anglican Revd Dumps Priesthood, Opens Pro-Polygamy Ministry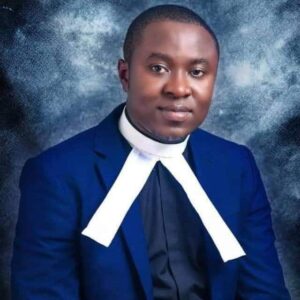 Rev. Ogbuchukwu
Rev., Lotanna Ogbuchukwu, a priest of the Anglican Church working in the Diocese of Nnewi, in Anambra has resigned his priesthood.
Ogbuchukwu said his resignation was in response to a divine call he received to start up a campaign support of polygamy, as a way of reducing the rate of sexual sins.
He said although Anglican Church has been teaching against polygamy, the Lord had opened his eye to the reality that polygamy was not a sin.
He noted that what God hates was divorce of any type, sleeping with another man's wife and or sleeping with someone one was not married to.
The priest who is also a lawyer insisted that God desired that men should marry more than one wife, rather than going for someone's wife or ladies they were not married to,
According to him, the church has hidden the truth from members for a long time, and it is high time people are told the truth.
"The only thing wrong with polygamy is to stay in a Church that says no to it and practice it, and encouraged men to marry their side chicks to escape hellfire," he said.
Ogbuchukwu said that his new movement will be called Gideonites, while the place of worship will be called Gideonites' Temple.
Ogbuchukwu, was ordained an Anglican Priest on Dec. 22 2019, at Cathedral Church of St. Mary's Uruagu, Nnewi.
He is , is married to Chinyere Abigail, an indigene of Umuogbe Village Achalla in Awka North LGA.
.