My Role In The Struggle For Anambra's Oil  Producing Status–Hon. Awogu, Ogbaru Rep Candidate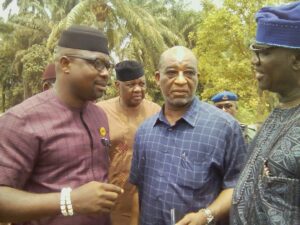 In July 2022, the Anambra State Government announced the receipt of the first payment of its share of the monthly 13 percent derivation as an oil producing state.
A Statement by the government said the money received was about N273 million and that it varies according to production.
The journey to Anambra's Oil producing state status wasn't an easy one as it had been so proclaimed on Aug. 30, 2012 by the former President Goodluck Jonathan administration following the activities of Orientation Petroleum PLC which was prospecting and exploring in Aguleri Otu oil field.
Inter state crisis, low production and administrative challenges later slowed down operations of Orient Petroleum and ended the hope of actualisation of the gains of oil production in Anambra.
Unknown to many, massive oil prospecting and exploration activities were going on in the deep offshore communities of Ogbaru Local Government Area.
SEEPCO, an Indian petroleum production company had obtained a joint venture license from the then NNPC to operate the OML143. 
OML143 is an oil field which straddles Imo, Anambra and Delta states but the company established presence in Oguta in Imo state and Ogume in Delta state while the main exploration went on seamlessly in Ogbaru, Anambra.
Mr Arinze Awogu, a former chairman of Ogbaru Local Government Area said upon learning of the mining activities by the foregn operators, he embarked on a voyage of discovery through the mangrove swamp and  forest to see things for himself in 2016..
Awogu, Civil Rights Activist and Special Adviser to then Gov. Willie Obianl said against every security advice and with determination to ensure that Anambra was not shortchanged through his part of the state, he braced the odds and cane back with startling tales of economic exploitation of monumental proportion.
He said the oil companies carefully balkernised Ogbaru communities of  Ogwu-Aniocha and Ogwu-Ikpele abd shared them to Imo and Delta states respectively
According to Awogu who is candidate of the All Progressives Grand Alliance (APGA) for Ogbaru Federal Constituency, I was advised not to go because nobody goes there, but I insisted that I must risk it. 
"I took off with 11 motorbikes from where our vehicles could manage to get to at Otuakanta. 
"We were 21 in number and of  the 11 motorbikes with which I advanced into the mangrove forest only five made it to the oilfield because of the thorny and soggy nature of the pathway, at some point we would have to drag the motorbikes by hand. 
'When we eventually got to the oilfield after about three hours in the forest, I saw about 35 caravans; I saw where the oil company built a helipad, where they land their helicopters.  I saw drilling machines, I saw their rig.
"I saw pipes lined up towards Oguta and I saw military men providing security there and it was a very busy place covering about five football fields put together with foreign expatriates and other staff fully at work," he said.
Awogu said his arrival at the Ogbaru oil mining field after a tortuous journey was the first by any Anambra person as confessed by the staff of the multinational company.
He said he was convinced that the communities where the exploration was going on were within Ogbaru and by extension belonged to Anambra 
He recalled that this effort started two years before he was made chairman of  Ogbaru Local Government Council and that the appointment merely merely complimented the already set in motion effort.
"They said to me that I was the first person coming from the Anambra state government to lay claims to the field, you will hardly believe that such a big deal was going on deep inside Ogbaru. 
"I told the governor that, that was the quickest way Anambra could join the list of oil producing states as  the oil company was already mining with OML143 as against what Orient Petroleum was doing with OPL in Aguleri-Otu. 
"I met severally with late Dr. Emma Egbogah on the issue and we began to escalate the matter to all authorities," he said.
Awogu said he resisted offers to drop the push for the company to regularise their operations for six years because qualifying the state for derivation would fetch Ogbaru people and Anambra state more benefits than the droplets the oil company was putting forward. 
He said now that the objective had been achieved, NDDC operations will start and oil companies will undertake corporate social responsibility which will lead to better roads, schools, hospitals, jetties, remodeled local markets; scholarships and other social amenities.
He thanked former governor Obiano and HRH Igwe Oliver Chike Nnaji of Ogwu-Aniocha who 'was murdered in the process and his body yet to be seen till date'
"I make bold to say that Igwe Oliver Chike Nnaji is the hero of the oil status we are beginning to enjoy today, for he laid his life for it and he deserves to be remembered and the young family he left behind. 
"As of today, there are more than 114 oil wells in Ogbaru local government area. 
"Our strong disdain for bribery and compromises have finally paid off and today Anambra state is the winner with eight (8) producing oil wells from Ogbaru in the kitty pumping out no fewer than 500 barrels of crude oil everyday which was hitherto credited to Imo and Delta states.
"Of the 93 oil wells, 25 are within Umunzalabia Kindred's land and 27 are located within Umuezeosai Kindred's land, while the rest 41 are located at  Ofia-Ogwu (Okporodum, Utu-ala, Ogbundam, Odidi lake etc).
"Ogbaru no doubt has become a beautiful bride and soon, will be visited with infrastructural developments commensurate with her contribution to the national economy.
"For me, true representation is all about the people and any representation that is not geared towards the ultimate good of the people should not exist," he said.