Orsu:: Bishop Ukwuoma Condemns Killings, Destruction Of Livelihood By Nigerian Army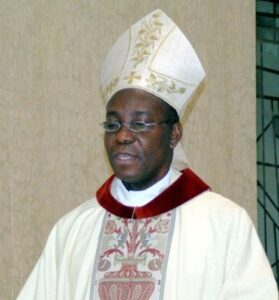 Most Revd Augustine Ukwuoma, Bishop, Catholic of Orlu has called on Gov. Hope Uzodimma of Imo State and Nigerian Army to stop further killing of innocent people and destruction of property and livelihood in Orsu LGA.
Ukwuoma made the call while reacting to the unprovoked bombardment and destruction of the popular Ekeututu market in Orsuihiteukwa by a combined team of Nigeria military and Ebubeagu militia operated by Uzodimma.
According to local eyewitnesses, the military invasion of the area started in the early house of Sept.17 with high calibre war hardware but military helicopter later flew in to drop the bombs in the market, levelling it in the process.

The Catholic Bishop said the burning down of Eke ututu market had added another sad dimension to our existing bad situation where inhabitants of the area were petty traders and subsistence farmers who lived from hand to mouth.
"On Saturday Sept. 17, armed men alleged to be government security agencies invaded Orsuihiteukwa community in Orsu LGA, exercise resulted in the death of some people and the burning down of Eke ututu market.
" This market is the economic mainstay of the people of Orsu LGA and other surrounding communities, I have severally in the past condemned the wasting of human life either bystate or non-state actors.
"I still maintain the view, that human life is sacred and should be
respected (Exodus 20:13.) Violence begets violence and the circle continues. Genuine dialogue remains the answer.
"My sincere condolences go to all families who lost loved ones during this painful incident, may the souls of these our brethren rest in peace," he stated.
Ukwuoma wondered what security threat Ekeututu market posed to society and if the perpetrators of the mayhem thought of how many indigent people depended on this market as their main source of livelihood.
He said he strongly condemned the destruction of the Ekeututu market and called on government authorities to investigate the incident and take necessary steps to prevent reoccurrence.
According to him, did they think of the number of children who will have nothing to eat because their parents have lost their sources of income?
"Did they think of the resources burnt especially during this economic hardship, did they think of the psychological trauma these local inhabitants will go through due to the violent act?
"The burning down of this market has negatively touched the very core of the existence of these people who may be changed to a
life of misery given the present economic strangulation we are in," he stated.