Awogu Bags  Ohaneze "Pillar" Award, Says Equity Crucial To National Unity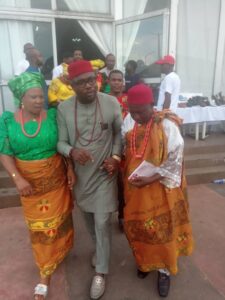 Mr Arinzechukwu Awogu, candidate of the All Progressives Grand Alliance (APGA) for Ogbaru Federal Constituency in Anambra has said that equity and justice were crucial to unity and prosperity of Nigeria.
Awogu, a former chairman of Ogbaru LGA said this while receiving an award conferred on him by Ohanaeze-Ndi-Igbo socio cultural organisation at the World Igbo Day held in Awka, the Anambra capital.
He said Nigeria was founded on a tripod principle which gave equal recognition and opportunity to every region but regretted that a section had not been given the opportunity to contribute their quota in the administration of the country.
The Civil Rights Activist who was given the "Pillar of Ohaneze Award" said "there can't be justice without equity, Nigeria as a nation has continued to wobble uncontrollably because of her own internal irreconcilables.
"Nigeria took off at independence on a tripod now has only two of the tripod-stand, where is the Igbo-leg of the tripod?
"It appears they have been reduced to minority and inconsequential status by the unwritten post civil war policies," he said.
Awogu expressed worry about the continued detention of Mazi Nnamdi Kanu, the leader of the proscribed Indigenous People of Biafra in DSS custody and its adverse effect on peace and security in the Southeast.
He said kanu should be tried and treated on the merit of the verdict of the court in his case.
According to him, what is Mazi Nnamdi Kanu still doing in the DSS custody after 16 months, he should be freed if there is no case against him, it is unfair to throw him in the dungeon perpetually," he said.
He called for the unity of the Igbo nation and urged that the time for the Igbos to speak and act as one people has come.
Presenting the award, Dr Arinze Agbanusi of the Department of Philosophy, Nnamdi Azikiwe University, Awka said Awogu was a worthy son in whom the Igbo nation will continue to be proud.
Agbanusi urged the awardee to continue to defend the interest of his people as he sought to represent the people of Ogbaru Federal Constituency at the House of Representatives.
Chie Emeka Udodeme, the National President of Ohaneze Ndi-Igbo, Anambra State Chapter said the theme of this year's celebration was "Ariri Akaria".
Udodeme said yearly event organised by Ohaneze Ndigbo, the apex Igbo socio-cultural organisation, was to honour those who had contributed to the development of Nigeria and Igbo land and pay homage to victims of the civil war
The ceremony was chaired by Chief Val Ozigbo while the Keynote address was delivered by Mr. Chris Okoye