Awogu Says Flood, Worst Existential Threat To Ogbaru People, Urges National Response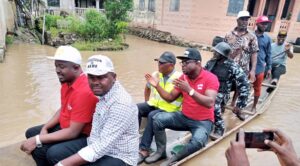 Mr Arinzechukwu Awogu, immediate past chairman of Ogbaru Local Government Area in Anambra says the area is presently witnessing the worst flood disaster in recent history.
Awogu who spoke on Sunday, said the flood which had claimed no fewer than 76 lives including those who drowned on Oct. 7 while fleeing was of higher magnitude than 2012.
The Civil Rights activist said the drowning of no fewer than 76 people fleeing Umunankwo area of Ogbaru due to the flood was a sad reminder of Aug. 3, 2005 when a wooden boat ferrying 150 capsized killing no fewer than 135 in the process.
Awogu who is the candidate of the All Progressives Grand Alliance (APGA) for Ogbaru Federal Constituency said flood could trigger famine in the long term if pragmatic steps were not taken to restore normalcy as soon as water receded.
He said the marine transport accidents which came with heavy loss of lives and property would have been averted if the Atani-Ogwuikpele road was completed, the the collapsed section at Ofia-Umuoga fixed.
According to him, regrettably, the wailing continues for the people of Ogbaru; a highly productive people and a significant contributor to the national economy by virtue of her huge deposit in oil and gas.
"It is a sad memory of Aug. 3, 2005 when 150 passengers on board a large wooden boat with farm produce capsized on the way to Onitsha from Akili-Ogidi, 135 persons remain unaccounted for till date.
"Lack of access roads have forced Ogbaru people to rely mostly on water transportation as the only means of evacuating their farm produce out of the hinterland, it is pathetic that we have go through the same harrowing experience again 17 years after," he said.
Awogu renewed call for provision of basic infrastructure that would address the peculiarity of Ogbaru which is largely riverine with all its 16 communities on the bank of the River Niger.
He commended Gov. Chukwuma Soludo for his commitment to building roads in Ogbaru but noted that the area was also facing environmental and ecological challenges.
"The River Niger is eating up Ogbaru land and space with massive water erosion,it is an existential threat to Ogbaru people, so we are calling for immediate national intervention.
"It is not too much to ask for basic infrastructure like an access road, we also demand that the impact of this devastating disaster should be cushioned," he said.
Awogu expressed optimism that the worst part of the flood had passed and that water would recede soon.
He urged governments at the state and federal levels to begin a post flood resettlement programme to enable the people return to their normal lives as soon as possible.
Awogu said farmlands and millions of fish in ponds were washed away by the flood and the people of area needed inputs to start up again to avert famine.
According to him, water has maintained a particular level in the last 48 hours meaning that it is no longer increasing, so we hope that water will start receding in about one week's time.
"Government should activate post-flood rehabilitation for the people of Ogbaru and other affected areas.
"Most people lost their houses, their homes, their means of livelihood; they need support to enable them to get back to normal lives.
"Out people need seedlings, cassava cuttings and financial aid; they lost millions of grown fish lost to the ravaging flood, so will be needing support in the areas of fingerlings and rebuilding of their collapsed ponds," he said.