Estate Onyedum Assumes,  Promises  'Total Sports' sector in anambra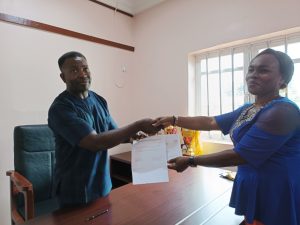 Patrick Onyedum, the newly appointed  chairman of Anambra Sports Development Commission (ASDC) has promised to help youths in Anambra to develop their potential in whatever sporting event they chose.
Onyedum made the promise at a brief handover ceremony where he assumed office as the second substantive chairman of ASDC in Awka.
He took over from Ms Faith Okwonna, a director who was in charge of the commission after Tony Oli, the maiden chairman whose tenure in September.
Onyedum was the former chairman of Anaocha Local Government Area, representative of Southeast in Athletic Federation of Nigeria and until his appointment, chairman of Anambra State Athletics Association.
The new chairman said he would work towards developing a virile sports sector that would restore the state to its days of glory.
He said his appointment was not unexpected as he had looked forward to a time when he would have an opportunity to deploy his experience as a veteran athlete and an administrator to management of sports in Anambra.
According to him, my mission is to restore the glory of Anambra in sports, groom the youth and make the governor and indeed Anambra people proud.
"Before coming to the commission, I have been into sports as an athlete, an administrator and sponsor, so this is an opportunity for me to use that experience to build a sustainable and structured sports sector," he said.
Onyedum thanked Gov. Chukwuma Soludo for finding him worthy for the appointment while promising not to  let him down in using sports to achieve his lofty vision for Anambra youths.