Onyedum Weeps Over Decay Of Ikpeazu, Achebe Mini-Stadia in Onitsha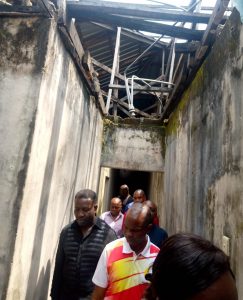 The chairman of Anambra Sports Development Commission (ASDC), Patrick Onyedum expressed sadness over the decay of Chuba Ikpeazu and Godwin Achebe mini stadia both in Onitsha due to several years of abandonment.
Visibly disappointed Onyedum who visited the facilities in company of some officials of the Commission on said allowing the huge sum of money spent on building the stadia to roth away was unacceptable.
The roofs of the pavilion and indoor sports hall at the Ikpeazu station have been blown off while the tartan tracks had peeled off and the football pitch had been overgrown by weeds.
Achebe stadium had no grass in the football pitch only good beach football and is used as a parking lot for tricycles with refuse in and around the facilities.
These facilities, which were built in 2009, were used for staging State and School Sports Festivals till about eight years ago.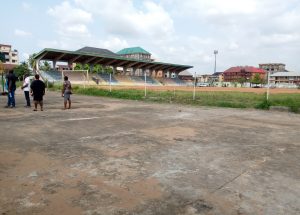 Onyedum said it was sad that apart from not being used to stage competitions, the tracks, the football pitches, the pavilions and indoor sports halls have been allowed to decay.
He said Onitsha was a town with a rich history of sports with thousands of budding athletes and deserved a functional facility where they could express themselves.
"I am not impressed with what I saw at Ikpeazu and Achebe stadia, they have undergone serious decay due to lack of maintenance
"Why should we build such infrastructures when we know we are not ready to maintain them, especially Ikpeazu stadium which is a big stadium with a variety of facilities that can keep our primary and secondary school students busy in any game they want.
"The tartan track is rotten and not in use, the building is dilapidated with a leaky roof, nothing is functioning, there is a lot to do to revive that place," he said.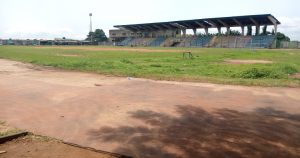 The Onyedum said having functional sports infrastructure was crucial to building a sustainable sports sector and that he would present the substation to Gov. Chukwuma Soludo for possible resuscitation.
He said the State would consider a Public Private Partnership model for rebuilding and management of sports facilities in the state for effectiveness.
According to him, I shall visit the facilities the second time to evaluate the situation and present it to the governor
"We shall consider Public Private Partnership in rebuilding and maintaining sports facilities in Anambra, we will not allow our sports infrastructure to suffer that level of non maintenance again," he said.