Anambra Sports Commission Boss Summons Contractor Over Awka Stadium Project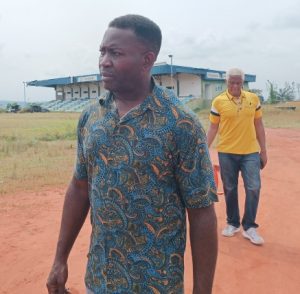 The Anambra Sports Development Commission (ASDC) has called for a meeting with the contractor executing the Awka Stadium project.
Patrick Onyedum, Chairman of Anambra State Sports Development Commission (ASDC) who visited the stadium as part of his tour of sports facilities in Anambra said this on Friday.
Onyedum commended the quality of the football pitch, regretting that athletics, track and field events could not be staged there in spite the tartan track laid there.
He wondered why work had stopped st the stadium when execution of the project was far from being over and demanded that the contractor handling it should come and give a progress report.
"The pitch is fine but there is no place for field events, to me, the work is not complete, there is still a lot of work to be done, Ihave directed that the contractor should come for an update.
"I need to see the contract document because I do not have it, this will enable us to know what he was contracted to do, the percentage of contract sum he has been paid, what is outstanding and if he has finished his job," he said.
Onyedum who had earlier inspected the Otuocha Township Stadium, Aguleri in Anambra East Local Government Area, condemned acts of vandalism on the stadium.
He said the rot at various sports facilities in Anambra was unacceptable and highly condemnable.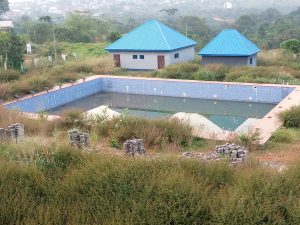 Recall that the Otuocha stadium got a huge facelift in 2020 when it was rebuilt and equipped for the purpose of hosting the Nigeria Police Games.
The chairman said it was sad that electrical cables that distributed power from the generator had all been vandalised and carted sway.
He said the stadium offices were broken into and yet to be identified equipment stolen.
"This stadium was well equipped but the place is totally vandalised, the gate is broken, the electrical cables have been unearthed and stolen, the pavilion roof, chairs, office equipment have all been removed.
"Nobody is protecting the facility, it is unfortunate that the community would allow this type of destruction to take place.
"We are going to see how we can recover the few assets left before they will be stolen," he said.
On the abandoned multimillion naira swimming pool also constructed in 2020 for Nigeria Police Games at the Alex Ekwueme Square, Onyedum said there was nothing the state could salvage from it.
He said the funds that would be used to control erosion at the site and put it in shape could be used to construct a new one at a more suitable site.
He however, said the basketball, volleyball and handball courts would be renovated and better managed