2000 PDP, APC Defectors Join APGA As Awogu Kicks Off Campaign For Ogbaru Fed. Constituency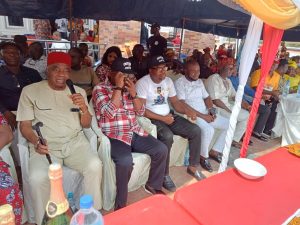 No fewer than 2,000 members of other political parties on Saturday declared their support for Mr Arinzechukwu Awogu, candidate of the All Progressives Grand Alliance (APGA) for Ogbaru Federal Constituency in Anambra.
Awogu received the defectors who came from the Peoples Democratic Party (PDP), All Progressives Congress (APC) and Labour Party at the inauguration of his campaign in Atani, Ogbaru LGA ahead of the February 2023 poll.
Speaking at the event, Awogu who welcomed the new party faithful commended them for their huge confidence in APGA as a party while promising that they would not regret joining the party to support him.
Awogu urged them to vote for him and defend their votes at their various polling units to ensure victory for APGA as there was no second place in electoral contests.
According to him, there is no place for second position in this battle and if we must take first position, there must be something we must do. We must increase our commitment and work rate.
"I want to specially welcome all our brothers from PDP, APC, LP and other opposition parties in Anambra, more than 2,000 of you who have joined APGA in Ogbaru to help actualise the victory of myself Arinzechukwu Awogu come February next year.
"Open your eyes in your polling units. If you did well in the last election, do better in the February 2023 general election.
"You must win your polling units and wards, we shall commence visitation of all the wards in the constituency tours soon. We must deliver all APGA candidates from the Senate to the House of Representatives and the House of Assembly," he said.
Also speaking, Chief Paul Nwosu, Commissioner for Information in Anambra said Ogbaru would get it right this time and deliver APGA in the constituency.
Nwosu said they would not make the mistake of previous elections noting that APGA was going into the election with stronger strategies.
He charged party faithful to remember to be their brothers' and sisters' keeper in line with the slogan of APGA and vote APGA all the way from Senate, House of Representatives and House of Assembly candidates.
"Support us to win in the coming election. You will not regret it. We are not greedy like others," he said.
In his speech Chief Nobert Obi, the chairman of APGA in the Anambra said he was glad with the unity of purpose among APGA faithful in Ogbaru with full complement of chairmen and secretaries of the 21 electoral wards across the 16 communities in the constituency.
Obi said they should continue to kerp the candle of APGA alight by ensuring victory for the party in all elections where they have candidates.
"There is a lot of work. Be strong in the support of our candidates, Awogu and others. Vote for them because if they win, you will enjoy it," he said.
Speaking on behalf of the decampees, Chief Anthony Okolo, said they decided to join APGA because of the quality and credibility of Awogu who he said had demonstrated over time that he is a politician who feared God.
Okolo said it was for the altruistic efforts of people like Awogu who worked without compromise that earned Anambra the status of an oil producing state.
He said the APGA candidate was a man with immense public experience having served as chairman of Ogbaru LGA and had the qualities of accessibility, humaneness and philanthropy.
According to him, apart from the fact that Awogu is humble and accessible, he has equally demonstrated that he is not a greedy politician.
"This is a man who refused to be a billionaire in order to save his people. Such a man can adequately represent Ogbaru in the House of Representatives in Abuja.
"That is why we have joined APGA to work with other like minds to seamlessly deliver Awogu," he said.