Soludo-Obi: Kenneth Okonkwo Has Insulted Igbo Nation In Quest For Relevance…Aburime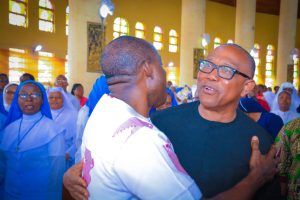 Mr Christian Aburime, the Press Secretary to Gov. Chukwuma Soludo has told Mr Kenneth Okonkwo, one of Labour Party's presidential campaign spokesmen to stop denigrating the office of the State Governor and using same for cheap popularity stunts.
Aburime said this in an interview with journalists in Awka on Saturday while reacting to a viral video on Okonkwo's appearance in a television station where he left the subject of his invitation and started maligning Soludo.
The Media Aide said the alleged misunderstanding between his principal and Peter Obi, which was not personal as both remain great sons of Anambra and had moved on as brothers, it was necessary to put the veteran actor in his right place.
He said Kenneth "Andy" Okonkwo was both a burden and an embarrassment to the Peter Obi campaign organisation,
According to him, our attention has been drawn to the clip of an interview Kenneth Okonkwo granted to Channels TV where he used gutter language on Prof Chukwuma Soludo, a world class Economist, technocrats and governor of the great state of Anambra.
"In the video he described Soludo as a local gossip and tried to defend the said investment by Peter Obi which the former governor has not disagreed with Soludo as regards his current depleted market
"I want to say that Okonkwo's is a disgrace to spokesmanship and I sympathise with the Labor Party which left professional image makers in the country and found a movie actor as a suitable candidate.
"The party should have known that presidential campaign spokesmanship is not Nollywood, they should have done a good background check to ensure that people who speak for them are not morally bankrupt," he said.
Aburime said It was sad that Okonkwo dod not know that Mgba- Afo was the name given to a woman born on Afo market day in Igbo land.
He wondered why the LP campaign spokesman would insult the entire Igbo race by trying to mislead the world that the names that promote their cultural identity means gossip.
Aburime said Okonkwo should apologise to Prof. Chukwuma Soludo and indeed the entire Igbo nation for denigrating their great and cherished language on the altar of exuberant partisanship.
He said Okonkwo had no moral right to speak for a group that claimed to be supposedly preaching the message of new Nigeria noting that he was actually part of the problems government at all levels including that of Prof. Soludo were trying to solve.
"If he is a true Igbo son, he should have known that Mgba-Eke, Mgba-Orie, Mgba-Nkwo and Mgba-Afo are traditional names which only proud Igbo sons and daughters like Soludo will promote, what is wrong in saying he is a son of a woman born on Afo market day ?
"I will not dwell much on a man whose major impact in Nollywood is the killing of the values of hard work, industry and respect the Igbo man is known for, and the promotion of cultism and money rituals, a misguided narrative which had bastardised the psyche of our youths and destroyed the social fabric," he said.
Aburime said as a government, the Soludo administration remained focused on making Anambra a peaceful and livable homeland and will not be distracted with wannabes like Okonkwo