NSF: Athletes, Officials Escape Snake Attack, As Blackout Envelopes Games Village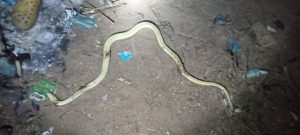 There was pandemonium at St Patrick's College, Asaba Games Village, Nebisi Road Asaba following an invasion of the camp by a dangerous snake.
The giant snake measuring about six feet was seen trying to crawl into a hotel room where female athletes of the Anambra contingent were staying.
The Games Village has also been in total darkness as there had not been power supply to the facility since they entered camp three days ago.
The development had left them to sleep two nights in darkness with increased risk to their performance at the games and health safety.
The snake was seen and killed late l Wednesday.
The snake was hibernating in the female hostel section where athletes were staying before it was killed.
The team expressed worries that the organisers did not prepare the venue by making electricity available nor fumigating it against reptiles and insects including mosquitoes.
Aka Chika, Camp Commandant of Anambra Team confirmed the situation on camp.
Chika said the prevailing darkness in the night would not make for effective communication between coaches and athletes as well as monitoring of the environment.