Emeka Offor Foundation Distributes 2,000 Bags Of Rice, Wrappers To Widows In Anambra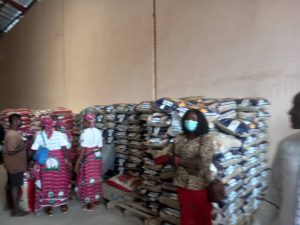 The Sir Emeka Offor Foundation (SEOF) on Wednesday distributed 50kg bags of rice to no fewer than 2,000 indigent widows in Anambra.
The SOEF also distributed about 2,300 six piece wrappers to the beneficiaries at a brief ceremony held at Oraifite, Ekwusigo Local Government of Anambra.
Chief Emeka Offor President of SEOF who spoke at the event said the gesture was in line with the founding principles of the Foundation which was established in 2003.
Offor, who is the Chairman of Chrome Group said distributing rice to widows had been a quarterly event, done four times in a year.
He announced that the foundation planned to build about 50 houses for poor widows in the town before the end of June 2023.
"Since 2003 we established this Foundation, we have been growing higher and stronger, we have never looked back, it has been over a decade and God has been faithful," he said.
Mrs Ify Obinabo, Commissioner for Women Affairs who represented the Anambra government at the event urged women to continue to be agents of positive change in the society and endeavour to raise good homes in spite the loss of their husbands.
Obinabo, who delivered the governor's message, said they should train their children to be people thry would be proud of, and cautioned against pushing their children to become criminals and nuisance to the society.
In appreciation, a beneficiary of the house gift who identified herself simply as Mrs Nweke thanked her benefactors and prayed for God's blessing upon them
Nweke said God has used Offor to make life and those of other beneficiaries worth living through his numerous philanthropic gestures.