Soludo Urges Youths To Be Catalysts Of Development as Okoli Emerges ASATU-Youth President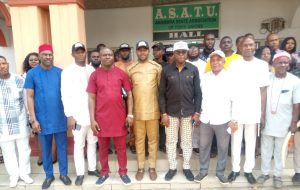 Gov. Chukwuma Soludo of Anambra has called on youths in the state to be catalysts of good governance and development.
Soludo made the call after the election and inauguration of new leadership of Anambra State Association of Town Unions (ASATU)-Youth Wing, in Awka on Friday
ASATU-Youth Wing is a community based youth organisation made up of youth leaders in the town union leaderships in the 179 communities in Anambra,
The governor who was represents by Mr Patrick Aghamba, the Commissioner for Youth Development said his administration had a robust programme for the Anambra youth and that youth based organisation remained pivotal to the success of those agenda.
He urged them to make themselves relevant in their various communities by ensuring that the good messages of his administration' s 'solution agenda' reached the grassroots while promising to give them the necessary support.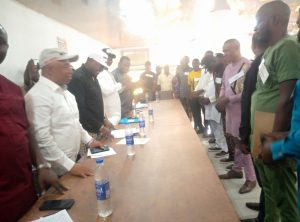 The governor called for synergy among the ASATU -Youth and other youth based organisation including National Youth Council of Nigeria, Youth Wing of Faith based organisations, Boys Scouts and other recognised bodies.
"You should synergise and complement each other and avoid any form of supremacy battle or conflict," he said.
The governor commended ASATU-Youth Wing the peaceful, orderly and success of their election while wishing the new executive successful tenure.
In his acceptance speech, Mr Ken Okoli, the new president of ASATU said the group would continue to work with the traditional rulers, Presidents General of Town Unions and government to ensure peace and positive growth in the communities.
Okoli said they would also play their role of citizenship by making sure that the government was responsible and responsive to the yearnings of the people which were the essence of the existence of the government.
He thanked Soludo for the high premium he placed on ASATU-Youth by finding their members worthy of appointment as Commissioner, Local Government Chairmen and aides in his administration.
"We must help the government to succeed, we shall not fail because of the government fails, we have failed, we shall push the message and actions of good governance in the 179 communities of Anambra," he said.
Other elected officers are Mr Onyebuchi Nwobu, 1st vice president, Mr Enebeli Idowu2nd vice president, Mr Emmanuel Ezike, 3rd vice president, Mr Patrick Chinwubas, secretarygeneral, Chris Obike, 1st asst. secretary, Mr Chukwumaobi Chidiebere, 2nd assistant. secretary and Mr Joseph Nnakwe financial secretary.
Others are Mr Christian Madichie,, treasurer, Chief Sam Mbanefo, 1st auditor, Mr Emeka Chijiuba, 2nd auditor, Mr Nelson Obiakor, 1st P.R.O, Mr Peter Ananti, 2nd P.R.O, Mr Chinedu, Onwubah, 3rd P.R.O, Mr Frank Chukwukeluo, 1st social secretary, Mr Chinedu Samuel, 1st provost, Mr Nnaemeka Nwene, 2nd provost and Mr Onyedika Abanobi 3rd provost