Anambra Gov't Issues Quit Notice To Trespassers At Awka Township Stadium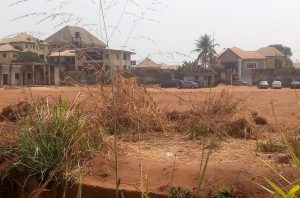 The Government of Anambra has directed land grabbers and owners of illegal structures within the premises of Awka Township Stadium to stop and vacate the facility.
Patrick-Estate Onyedum, Chairman of Anambra Sports Development Commission (ASDC) issued the order when he inspected the Stadium on Tuesday. 
Onyedum inspected the abandoned gatehouse, collapsed indoor sports hall and overall layout of the stadium area.
Onyedum said it was unfortunate that individuals or groups could go into the property of Anambra government and erect structures within the perimeter fence without consulting the government or obtaining approval from it.
He said the government through the ministry of Lands and Urban Planning Office would move in with aim of taking full possession.
"The boundaries of this Awka Stadium is not in doubt, you can see it is well fenced but it is surprising to see these structures here, the Sports Commission is not aware of them.
"So, we are calling on individuals or groups of persons trespassing into the stadium or erecting structures to stop forthwith," he said.
Onyedum said the State government under Prof. Chukwuma Soludo was ready to take full possession of the Awka Stadium and transform it into a  sports community.
He said the government planned to build a football pitch, tracks, indoor sports hall and courts for tennis, volleyball, basketball and handball in the stadium.
The chairman said the stadium had all it took to make Awka the sporting hub of the Southeast.