Anambra Gov't  Lauds Rojenny Boss' Contribution To Sports,  Promises Partnership
The Anambra government has commended Rommy Ezeonwuka, Managing Director of Rojenny Stadium and Games Village, Oba, near Onitsha for his vision for sports development in Nigeria and Anambra in particular.
Patrick-Estate Onyedum, Chairman of Anambra Sports Development Commission (ASDC) made commendation when he visited  Rojenny Stadium and Games Village, Oba on Thursday as part of his tour of private sports facilities in the state.
Onyedum who visited with his management team said there were a number of areas the state could partner with Rojenny in view of the administration's resolve to develop grassroots sports and create a sports economy.
According to him, I want to commend the Managing Director who built this facility about four decades ago. This can only be done by somebody who has the love of youths and society at heart.
"We hope to partner with Rojenny and that we shall work out when we get home because facilities here are still of high quality despite the age," he said.
In his presentation, Ezeonwuka said his vision was that Anambra and indeed Nigeria would have overtaken Jamaica in athletics and Brazil in football but noted that his biggest regret was the sustained degeneration of the facility due to lack of use.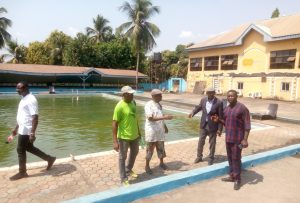 Ezeonwuka who was represented by Victor Nwangwu, Acting Chairman, Rojenny Stadium Management Committee said the stadium was large enough to host any size of competition up to the national level and could be a ground for regenerating of athletes.
He said the partnership with the Anambra government was important as no individual could manage facility of that magnitude alone.
"The government can come in from everyone where, as far as sports is concerned, an individual can not manage facility or club in Nigeria, government can not even do it alone, so this partnership is seriously important 
"The place is vast, there is area for development and there are facilities already like Olympic size swimming pool, handball court, basketball court, basketball court, tennis, volleyball, football pitch, hotel, hostels and indoor hall," he said.
He thanked Soludo for his interest in partnering the private sector and Rojenny in particular while assuring that the establishment was ready to work
On his part, Oluyomi Sule, a veteran national athlete and consultant to the commission said Rojenny was not only the first privately owned sports facility but an Olympic stadium in the country.
Sule said he was impressed with the standard Handball Court at the facility which was the first he was seeing in Anambra.
He said the facility should not be allowed to rot away but be turned to a sports hub in the Southeast.