Traditional Ruler Urges Soludo To Fund Sports Sufficiently, Support Private Sector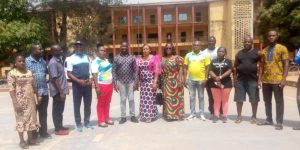 HRH, Igwe Max Ike-Oliobi, the traditional ruler of Nimo, Njikoka Local Government of Anambra has called on Gov. Chukwuma Soludo to match his robust manifesto on sports with requisite funding in the interest of teeming talented youths of the state.
Ike-Oliobi made the plea when received Patrick-Estate Onyedum, the Chairman of Anambra State Sports Development Commission (ASDC) and his management team in his palace.
Onyedum who was on tour of select secondary schools which had sports facilities with pedigree of producing budding athletes also visited All Sports Foundation Nimo (ASFAN), an academy owned and managed by Johnny Igboka, a veteran national High Jumper and Head Coach of Anambra Athletics Team.
Ike-Oliobi said sports was crucial to development and economic emancipation of the child and deserved every attention it could get from the government.
He commended Igboka for his passion and what he had been able to do for youths through sports using ASFAN for over 25 years and called on the Anambra government to support the academy by giving facelift to the camp and providing some facilities.
"We are happy that government of Prof. Charles Soludo has remembered us, we are happy for your visit because as a community and individuals we have been doing a lot to help our youth get a life through sports.
"Coach Johnny Igboka, has done a lot, in a normal society, he should not be here, single handedly he has been training and producing world champions, he goes cap in begging people to support his programmes and some of have been donating money and food items.
"I want to beg Gov. Soludo to support academies like this, he has a good plan for sports and with a true sportsman like you, Anambra will go back to the days of glory, all i ask is that he should provide the funds to implement these good ideas you have," he said.
Onyedum and his team were also conducted around the sports facilities of St Michael Secondary School Nimo by its Manager, Rev Fada Dennis Nwabueze who called on the government to help develop the school's sports ground.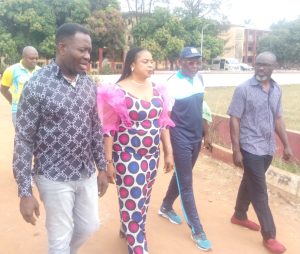 Fr Nwabueze said the school placed high premium on sports and had been consistent in the discovery and mentoring of champions.
Onyedum had earlier visited Community Secondary School, Isuofia in Aguata where he promised to help the school put its facilities which included handball court, volleyball court, basketball court, football pitch and athletics field in good use.
He also visited and inspected facilities at Austica Memorial School, Nanka promising that some deserving schools would be adopted as centres of sporting excellence to serve as training grounds for potential stars.
"It is good to know that some schools have put facilities in place, as a government we shall build on them and help them with technical manpower as well as activities.
"Prof. Chukwuma Soludo has said that we must get it right in sports and that we have to start from the scratch, that is why we are looking at what schools and communities are doing.
"I am really impressed with what i have seen so far, we shall work with them in our grassroots sports development agenda," he said.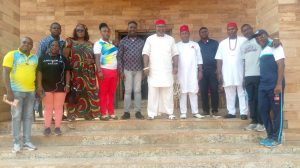 The chairman chairman said the Commission planned to hold the Anambra Schools Sports Festival in the second quarter of the year and that exceptional athletes stood a chance to win scholarship at the national and international levels.