Soludo Inaugurates Panac Export Based Seeds Processing Plant In Anambra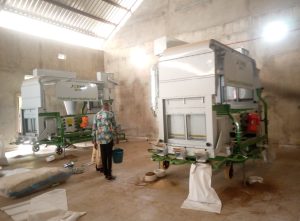 Gov. Chukwuma Soludo of Anambra on Tuesday inaugurated Panac Industries limited, an export based seeds processing plant in the State.
Panac Industries is sited in Mgbawa, Ogbunike in Oyi Local Government Area.
Soludo who was represented by Mr Obinna Ngonadi, the Commissioner for Industries said the plant which was first of its kind in the Southeast Region was an addition to the industrialisation drive of Anambra.
He commended Mr Chinedu Aniagboso, the Managing Director of the firm for blazing the trail in the seed processing subsector and called on entrepreneurs across the country to invest in Anambra as the state was open to investors.weq
Ngonadi was accompanied by Mr Eloka Mmaduekwe, Special Adviser to Soludo on Commerce and Industry.
He said the administration was determined to support activities in the export sector as it had already commenced the creation of an export emporium where all export bound products would be showcased, standardised, branded and containerised.
"This is a great initiative, exporting processed agro produce is a huge addition to the industrialisation efforts of Anambra including its employment and revenue benefits.
"We are going to support businesses like this, already we have building an export emporium on a 40 hectre land, that facility will be a standardised point for all Anambra export brands" he said.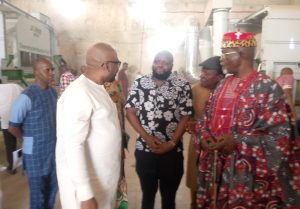 In his remark, Aniagboso said the company was set up with a view to adding value to Nigeria's agricultural produce.
He said the plant which had a combined capacity of 60 metric tonnes processed sesame seeds, soya bean seeds and sorghum
Aniagboso said the initiative was borne out years of business opportunities research both within Nigeria and outside the country.
He thanked the Anambra government for providing the environment while urging it to provide the basic infrastructure and institutional support for young entrepreneurs.
Prof. Segun Sogbesan, Director General of Onitsha Business School said the only way Nigeria could improve her Balance of Trade was to encourage export of value added products.
Sogbesan said Nigeria should move from exporting primary products to processing to earn foreign exchange.
On his part, Chief Kevin Obieri, Chairman of Onitsha Chambers Commerce, Industry Mines and Agriculture called on the Anambra government to build industrial clusters with all the facilities that encourage business establishment and growth.
Obieri congratulated Panac Industries for leading the pack in the export based subsector noting that indigenous firms need incentives, low cost finance, access roads, power and water to thrive.