Ànambra CP Preaches Against Violence, Mob Action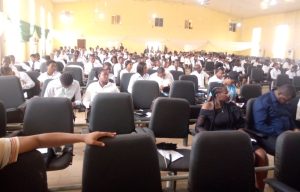 CP Echeng Echeng, Commissioner of Police in Anambra has called citizens especially, youths to shun all forms of violence under any guise.
Eceheng made the call while speaking at a summit organised by Federation of African Law Students (FALAS) at Chukwuemeka Odumegwu Ojukwu University, Igbariam, Anambra on Thursday.
He  urged citizens not to make themselves handy tools to politicians who wished to cause crises because of some policies they viewed to be unfavorable.
Echeng, who was represented by CSP Ewere Okundaye, in charge of the Special Investigation Bureau, said the best way to protest was to take advantage of the general election by voting the candidates they thought would give them the leadership they yearned for.
"Some of the policies may be coming with some pain and discomfort but destroying public or private property is not the best, you do not have to kill anybody, you do not have to kill those who are working to secure you.
"We are close to the election, use it to decide the next set of leaders you want, protest with your votes and use it for what is reasonably alright for you," he said.
The Police Chief also condemned jungle justice were suspected criminals were mobbed and lynched without fair hearing.
He said suspects should be subjected to law no matter the provocation as jungle justice bred lawlessness.
In his Remark, Prof. Greg Nwakoby, the Vice Chancellor of Chukwuemeka Ojukwu University, the host institution said Nigeria was still a country under a constitution which  should be protected by all arms of government.
Nwakoby, a legal luminary, called on the judiciary to make judgements that were consistent with natural justice and not to suit the political interest of some people.
He described the presidential order and judicial pronouncements on the redesign of the naira as conflicting and confusing to the citizens adding that all arms of government should synegise to make policies that promote lives of the people.
The Vice Chancellor told the young lawyers to be bold and defend their profession anywhere they found themselves as that was the only way they could speak to power in defense of the masses or oppressed.
Dr Onyeka Ibezim, Deputy Governor of Anambra who was the Special Guest at the event urged African Law Students to continue to exchange ideas and work together to develop their profession.
Ibezim who extended the good wishes of Gov. Chukwuma Soludo said the Anambra government would continue to deliver good governance and be responsible to the masses.
Mr Odira Ezeh, Head of Diplomacy and External Affairs, FALAS and a student of COOU said the summit with the theme as "Election and National Development in Africa" was to enrich intellectual discuss ahead of the general election in Nigeria.
Ezeh said the occasion was also used to officially Inaugurate FALAS Secretariat in Nigeria as well as its 2023 diary.