Anambra Gov't Signs N1.5bn Sports Marketing Deal With Brunnnuel & Winston Ltd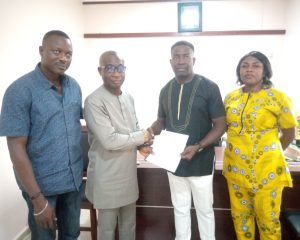 The Anambra government has signed a sports marketing partnership deal worth N1,5 billion with Brunnuel and Winston Ltd, a financial consulting firm to drive the Anambra Solution Sports Initiative(AnSSI)
The partnership is a bold move towards realisation the Prof. Chukwuma Soludo administration's determination to transform the sports sector infrastructure wise and in human capital development.
Patrick-Estate Onyedum, Chairman of the Anambra State Sports Development Commission signed on behalf of the State Government while Ojukwu Obakasi signed on behalf of Brunnuel and Winston.
Onyedum told journalists that the deal would span over a period of two years during which the consulting firm would bring-in the private sector including individuals, groups and corporate organisations to invest in the sports sector.
He said under the new Anambra sports development policy, the sector would witness massive sporting activities including school sports festivals, state sports festivals, community based competitions and marathons all aimed at identifying and nurturing talents to national and international champions.
Onyedum also said there would be  upgrade of existing sports facilities and construction of new ones across the 21 Local Government Areas of the State in the next four years.
 He called on corporate organisations and other would-be partners to take advantage of the Solution initiative for sports and be part of the history of returning Anambra back to the days of sporting glory.
"This partnership is both symbolic and historic, it marks a watershed in the history of sports in Anambra.
"We are determined to make sports real business and entertainment in Anambra, so, we invite sons and daughters of Anambra who have their businesses here or elsewhere as well as corporate firms to come and invest in the development of Anambra the child through sports.
"It will also provide a huge marketing opportunity for businesses because sports will provide them a platform to showcase their products and services not just to Anambra people but the entire country," he said.
On his part, Obakasi, Lead Consultant of  Brunnnuel & Winston Ltd thanked the Anambra government for having confidence in his organisation's capacity to help achieve its goals in the sports sector.
Obakasi assured diligent execution of the contract while urging the Anambra government to provide the necessary support the deal needed to support.