March 11: Catholic Church Not Against APGA, Ignore Fr Obiekezie, Anambra Voters Told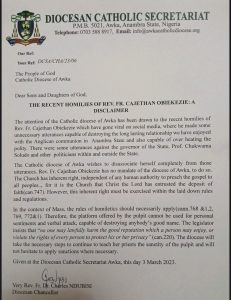 Voters in Anambra have been told to ignore the open campaign against the All Progressives Grand Alliance (APGA) by Rev. Fr. Cajethan Obiekezie ahead of the March 11 State Houses of Assembly elections.
The Catholic  Church which spoke in a Statement signed by Very Rev. Fr. Dr. Charles Ndubisi
Diocesan Chancellor condemned Obiekezie's message saying he neither spoke for the church nor represented her position.
Recall that Obiekezie in a homily shared in a viral video urged the Anambra electorate not to vote for APGA in retaliation to perceived Gov. Chukwuma Soludo campaign against Peter Obi's presidential bid.
The Church said, the platform offered by the pulpit should be used for personal sentiments and verbal attack, capable of destroying anybody's good name adding that the inherent right must be exercised within the laid down rules
and regulations.
It said "the attention of the Catholic diocese of Awka has been drawn to the recent homilies of Rev. Fr. Cajethan Obiekezie which have gone viral on social media, where he made some unnecessary utterances.
"The utterances are capable of destroying the long lasting relationship we have enjoyed
with the Anglican communion in Anambra State and also capable of overheating the polity. 
"There were some utterances against the governor of the State, Prof. Chukwuma Soludo and other politicians within and outside the State.
"The Catholic diocese of Awka wishes to disassociate herself completely from those utterances. Rev. Fr. Cajethan Obiekezie has no mandate of the diocese of Awka, to do so," it said.
The Church no one should lawfully harm the good reputation which a person enjoyed, or violate the rights of every person to protect his or her privacy
It said the Diocese would take the necessary steps to continue to teach her priests the sanctity of the pulpit and will not hesitate to apply sanctions where necessary.