Rommy Ezeonwuka, Igbo, Nigeria Hero Of Our Time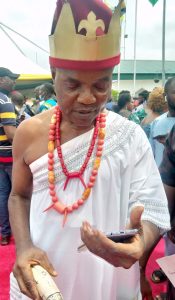 Rommy Ezeonwuka popularly known as Ogirisi -Igbo is an Igbo socio culturalist, a businessman, Innovator and lover/seeker of knowledge.
The Aguata, Anambra born genius was the first Igbo man to travel to Taiwan 1976, where he acquired the knowledge of Japanese Motorcycle spare parts from Taiwan and brought it to Nigeria.
He was the leading founder of the largest motorcycle spare parts market in Nigeria, located in the industrial town of Nnewi where he opened the business gateway to some of the most successful auto parts dealers including Innocent Chukwuma, the Managing Director of INNOSON Motors.
Ezeonwuka the his tradition of blazing trails in business, was the first person to bring Fiberglass Technology to Nigeria,1st to manufacture Bamboo toothpicks in Nigeria,
Ezeonwuka was the owner of Rojenny Stadium and Tourist Centre, Oba, a facility he built at a young age is the first and only Olympic stadium existing in the Southeast region of Nigeria.
The Stadium is the largest private sports facility in Nigeria and has hosted many continental matches that attracted Algeria, Egypt, Ivory coast, Mali among others.
The facility also had one of the largest tourism sites in Nigeria.
Rojenny Stadium served as a camp for the world conquering Golden Eaglet at Japan '93, the team stayed in the facility for more than 2 years and enjoyed scholarships to study at Merchant of Light Secondary School while learning how to play football.
This was the secret that made them win Japan '93 under 17 FIFA World Cup with Fanny Amun as Coach, Celestine Babayaro,Wilson Oruma, Kanu Nwankwo as the Captain, Peter Anosike among others.
Ezeonwuka also led a private sector driven revolution in the agricultural sector when he acquired large farm land in Anaku Ayamelum when it was under Uzouwani in the old Anambra State to set up a massive farm settlement.
This part was later followed by other farmers including Coscharis farm.
He has traveled to 85 percent of the world's major cities and identified some of the secrets of these developed countries.
According to him, these include:
100 percent uninterrupted power supply
Industrialization and export,
Tourism and sports development,
Education of skill acquisition.
People love their country (patriotism) and
Zero corruption.
Ezeonwuka in his submission said none of those developed countries fronts Religion as their way of life neither made Religion a national issue.
Ezeonwuka is not just a hero in his generation but a living legend whose ingenuity, intelligence and innovative acumen should be understudied and developed for national transformation purposes.
In developed economies, the likes of Ogirisi-Igbo are elevated to iconoclastic status as model for others but sadly, the Nigerian society has refused to accord him the recognition he deserves but instead has continued to celebrate and honour mediocres who contribute to the woes of the country.
The political buccaneers and economic opportunists who mismanage the fortune of the country and the continent have continued to get all the attention.
According to Ezeonwuka, this is the reason why Nigeria and Africa are lagging behind.
Ezeonwuka is one of Igbo Heros, One of Nigeria's Hero of Our Time.