Soludo Commends Emenike  As Ozalla, Awka Angels Emerge Champions FA Cup Winners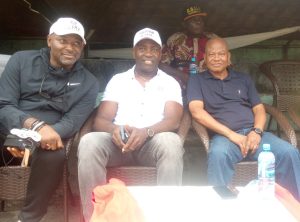 Gov. Soludo of Anambra has commended Polly Emenike, MD/CEO of NEROS Pharmaceutical Ltd for his uninterrupted sponsorship of Anambra FA Cup since 2007.
Soludo said this at the grand final of the 2023  NEROS Anambra FA Cup at the NEROS Stadium, Nanka in Orumba North LGA on Sunday.
Soludo who was represented by Patrick-Estate Onyedum, Chairman of Anambra State Sports Development Commission said he was proud of the contributions of Emenike to football and sports in general including the construction of a private stadium in the state.
The governor who applauded the quality of matches played at the final called on more people to invest in the competition and other ones to improve competitiveness and give more youths opportunity.
He said the formation of a state owned football club was part of his manifesto and that background works were going on towards floating it.
In the male final, Ozalla FA of Onitsha lifted the cup after defeating Edel FC of Nnewi with 1-0.
A goal by Innocent Victor in the 42 minute made the difference while both teams lost their penalty calls in the second half of the game.
In an earlier game, Awka Angels FA beat by 1-0 Maureen Madu Kiddies FA to lift the female Cup of the competition.
In his remark, Emenike commended the teams for their performance and discipline throughout the competition while assuring that he would continue to bankroll the FA Cup in Anambra.