Anambra FA Cup Winners, Ozalla FA Targets NPFL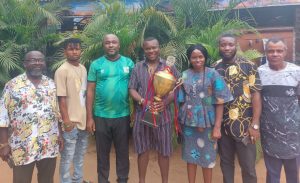 Management of Ozalla FC of Onitsha, winners of the 2023 Anambra FA cup has said that the long term ambition of the club is to ply trade in the Nigeria Professional Football League(NPFL).
Ikenna Osueke founder and Chairman of the club who spoke to journalists on Wednesday said the FA victory last Sunday was a sweet reward for his passion, hard work and commitment towards development of the game.
Ozalla on Easter Sunday stunned defending champions, Edel FC, formerly Nnewi Utd 1-0 to lift the trophy and become the first Academy team to win Anambra FA Cup in Anambra.
"I am humbled by this victory, I feel happy, I am grateful to God who made our dream come true.
"It requires discipline to produce a disciplined team, at Ozalla, we maintain a father-son relationship and this has helped a lot.
"Our long term ambition is to play in the Nigeria Premier Football League, so the NL02 campaign is a dress rehearsal towards our Premiership ambition,," he said
The visibly excited Osueke said it had not been easy shuddering the responsibility of the football academy and keeping it since it was formed in 2009 in the midst of financial challenges.
He said the team had consistently played the FA Cup and other tournaments since 2014 and featured in four FA Cup quarter final stages but have not been able to make it to the semi finals.
Osueke said Ozalla FA had been a success story judging by the number of successful footballers who had passed through the team and were now household names at national and international levels.
"When we qualified for the semi final, something in me told me this could be our time, like they say, it was indeed our turn for God to crown our efforts.
"We have many of our players in the various NPFL clubs in the country, we also have some of our players in the NNL clubs and even the NLO1 teams.
"On the international stage, we have some of our players in South Africa, Czech Republic, Germany and Belgium including Raphael Onyedika in Clubbe Brugge featuring in the UEFA Champions League.
"At Ozalla Football Academy, our objective is to offer the youths a platform to express their talents, help them grow and make a positive living through their God-given football talent," he said.
Osueke said the club had played its part in helping to remove them from the streets and anti-social vices.
"In addition to the ticket to represent Anambra in the Federation Cup, Ozalla FA will also feature in the NLO2 campaign which kicks off next month.
"We are working hard, we believe we can do it and we are ready for the challenges," he said.