Athletics: 16year old Ezechukwuchiri Hopeful Of Excellent Performance In Zambia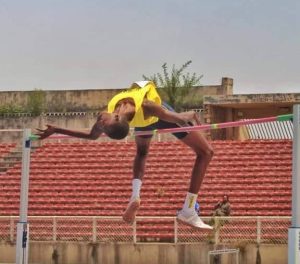 Fiaku Goodluck  Ezechukwuchiri, 16 year old high jump prodigy says his invitation to the national athletics camp is a huge morale booster to him.
Ezechukwuchiri, the current national record holder in U18 High Jump with a personal best performance said this in an interview with our reporter in Awka on Thursday.
Ezechukwuchiri joined 54 other athletes to the Athletics Federation of Nigeria (AFN) national camp for preparations ahead of Africa U18 and U20 championships scheduled to hold in Ndola, Zambia.
Ezechukwuchiri said he had always dreamt to be an Olympian since he took interest in sports and high jump specifically about eight years ago when he was primary three.
The lanky jumper said he would not only prepare to emerge top in Zambia but endeavour to sustain performance till he hit the world stage
"I am happy with this invitation, it is a huge encouragement to me, i am going to the best for my country and for myself.
"I  still have my eyes on the Olympics, I want to take my career to the top," he said.
Ezechukwuchiri commended Johnny Igboka, a national coach whom he described as mentor and father for identifying his potential early and nurturing him.
Most of the invited athletes were selected from those who participated at the recently concluded  AFN U18 and U20 All Comers trials held at the Ahmadu Bello stadium, Kaduna in March.