Onyedum Preaches Sports As Habit For Healthy Living At Zik Varsity Sports Championship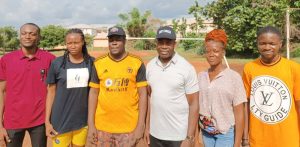 Patrick-Estate Onyedum, chairman of Anambra State Sports Development Commission (ANSDC) has called on the residents of Anambra to imbibe the culture of regular sports as a way of taking care of their physical and mental wellbeing.
Onyedum gave the advice at the mini sports festival held by the Pharmacy Students Association of Nigeria (PSAN), Nnamdi Azikiwe University, Agulu Campus at the weekend.
He commended the students for taking time out of their busy academic schedule to plan and execute the sports activity.
The chairman who described sports as medicine for people of all ages said many were not aware of the immense benefits of physical activity but were rather running after wealth at the risk of their health.
According to him, apart from helping people to develop physical and mental fitness, sports offer many untold benefits.
"Let me commend the student community for putting this together, the truth is that just as education plays a major role in shaping your minds, sports provides the opportunity of better health and career.
"People are after wealth and popularity but many are neglecting their health which is the wealth we are talking about.
"Everything needs a balance and you are getting it right by combining your studies and sporting needs," he said.
Onyedum said the Commission would see how it could partner the institution on the provision of some sports facilities.
Speaking on behalf of his members, Michael Oforah, the President of PSAN said the sports festival was meant to engender fitness and positive competition among the students.
Oforah commended Onyedum for his zeal to transform the sports sector in Anambra while thanking him for gracing the faculty sports competition.
He decried the lack of sporting facilities in the school and to the Anambra government to help students develop their talents by building facilities in the institution.
According to him, we need your assistance in the area of provision of facilities including a basketball court.
Some of the events that featured at the festival were basketball, football, sack race, 100 and 200 meters sprint.