Community begs Soludo to construct abandoned 2.6km Umudike Ukpor- Ozubulu road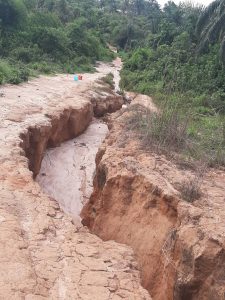 The people of Umudike Ukpor in Nnewi South Local Government Area of Anambra have called on Gov. Chukwuma Soludo to save them from the negative impacts of the 2.6 kilometre Umudike Ukpor – Afor Ilo Ozubulu road which is in a state of disrepair on their socioeconomic life.
Hon. Emma Valentine Ifechigha (JP), a community leader and former Elected Councillor who spoke to journalists in Awka on Friday said the construction of the road was started in 2019 by the Chief Willie Obiano administration but was abandoned soon after.
Hon Ifechigha who described the road as strategic said about one kilometre of the road was asphalted before the construction company left site leaving about 1.6 kilometres in deplorable state.
He called on Soludo to extend his emergency on road infrastructure in the state to Ukpor by including the Umudike Ukpor – Afor Ilo Ozubulu road in his plan of action.
Ifechigha who commended the governor for his resolve to transform the state, said completing the project would link Nnewi South and Ekwusigo LGAs, enhance economic interaction between them and accelerate development in the area.
He regretted that the road was not only impassable but had become an ecological disaster area due flood and gully erosion activities on it.
According to him, we the people of Umudike Ukpor wish to commend Mr Governor for his Solution Agenda as seen in the area of road revolution.
"We want to beg him to look in our direction, Ukpor has a serious need for infrastructure, but more importantly, we want to appeal to Gov. Soludo to restart and complete the Umudike Ukpor – Afor Ilo Ozubulu road project.
"That road measuring about 2.6 kilometres means a lot to us, it was first flagged off in 2019 but work stopped after the contractor had covered about one kilometre. We are pleading that the governor should direct that work resume there," he said.
Ifechigha appreciated sons and daughters of the community including Chief (Mrs) Nkoli Imoh who facilitated the initial take off of the project