Nchekwube 'Dunga' Picks APGA Chairmanship Form For Anambra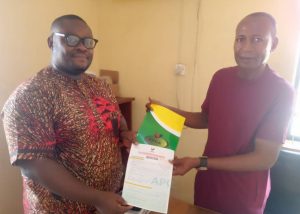 Chief Anthony Nchekwube, a chieftain of the All Progressives Grand Alliance (APGA) has picked the expression of interest form for the chairmanship position in Anambra.
Nchekwube, 42, is the current auditor of APGA in Anambra said he picked the (APGA Form 002) on Thursday at the party's Secretariat in Awka after wide consultations with stakeholders.
The aspirant has held various leadership positions in APGA including Secretary of Amansea Ward, Publicity Secretary of Awka North LGA and currently, Auditor General of Anambra chapter for seven years.
According to him, to the glory of God, I just picked my expression of interest form (APGA Form 002) for the State Chairmanship of APGA in Anambra from the party's Secretariat in Awka.
"Indeed the prayers and support of party faithful and stakeholders have kept me moving in confidence that this mandate will surely be delivered," he said.
Dunga as he is popularly known said women's empowerment was a top priority for him and his plan was to continue to encourage more participation of women in politics from ward to the state level.
He said if elected chairman, he would launch a massive party membership drive across the 326 wards in the state to encourage people to register as members of our great.
"Our team will make deliberate efforts to ensure that women are always well represented to reflect our gender balance compliance.
"We will ensure zero tolerance for all forms of intimidation against women in APGA
"We will strive and penetrate the inactive voters' demography, especially those who turned 18 years and others who are politically curious and get them activated into our party activities," he said.