Obosi Shutdown As Chidoka, Ex Aviation Minister Buries Mother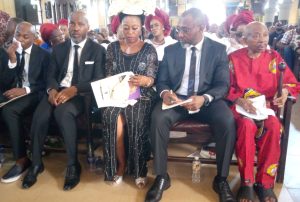 Chief Olusegun Obasanjo, former president of Nigeria,  Mr Peter Obi a former governor of Anambra and  presidential candidate of Labour Party and Gov. Chukwuma Soludo were among top dignitaries who joined Chief Osita Chidoka, former minister of aviation, at the burial of his mother Deaconess late Nneka Chidoka on Friday.
Late Nneka died on April 3 in her Obosi home at the age of 75 years after a protracted battle with cancer and was laid to rest in her husband's Deaconess Nneka Chidoka in Obosi, Idemili Local Government Area.
Most Revd Henry Ndukuba, Primate of Church of Nigeria, Anglican Communion in his Homily lifted from Rev. 21: 1-8 said the bereaved family should take solace in the fact that their matriarch lived a good life and he gone to be with her maker.
Ndukuba who was represented by Most Rev'd Dr Ali Lamido, Dean Church of Nigeria, Anglican Communion who celebrated the funeral service at St. Andrew's Church, Obosi  said death was an inevitable end as man would not live forever.
The Primate said Christians  did not need to fear death  as God would come in due time to take away every burden of their lives and wipe away their tears.
"Any life that was not lived with service to God, Church and humanity is a wasted life.
"Mama served God, served the church, this is the kind of death people should strive to die: dying in the Lord Jesus Christ," he said.
The Primate prayed to God to comfort the Osita and other members of the family including their 96 years old Patriarch, Ogbueshi Ben Chidoka and charged them not to let the good legacies of their mother to die.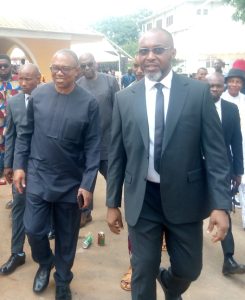 In his speech, Soludo commiserated with the Chidoka family, the people of Obosi and Anambra in general for the death which he described as painful but a celebration of life.
The governor commended the Anglican Diocese on the Niger for adhering to Anambra law on burial brochure by producing a standard funeral programme.
He urged youths to shun criminality and contribute positively to the growth of Anambra as no known criminal had been able to shoot his way up to 75 years of age.
In his message of appreciation, Osita said their deceased mother after a 15 years battle with cancer because she had a positive attitude. 
He said the family of Chidoka was setting up the Nneka Chidoka Outreach as a mark of respect and in memory of her 
He said the Outreach would screen, treat and conduct surgeries on women with cancer free of charge.
"Our mother meant everything to us, she is our refuge, she fought for us and defended us.
"We want to tell people that cancer is not a death sentence, it is preventable, curable and need not kill any woman.
"We are importing HPV vaccine for treatment of cancer patients," he said.
Others who joined the Chidoka's for the funeral were Gov. Chukwuma Soludo, Senators Mike Ajaegbo and Anyin Pius Anyim and Uche Ekwunife.