COOU VC Inaugurates General Studies Building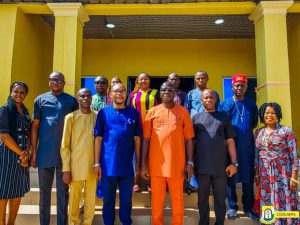 Prof. Greg Nwakoby, the Vice Chancellor of Chukwuemeka  Odumegwu Ojukwu University, Igbariam has inaugurated an ultramodern structure built by the General Studies (GS) Unit of the institution.
The building has a large hall of about 500 seats,  four offices, a store, and six conveniences. 
Nwakoby commended the GS Unit for the bold initiative noting that it would go a long way to solving the infrastructure needs of the institution.
He said the building had provided a better learning environment for staff and students while tasking them on improved productivity.
"I have worked in many universities and this is the first time we are having a GS building set up by the unit, this shows that the management is prudent and accountable.
"To whom much is given, much is expected, now that you have befitting, we expect to see the result of this work. You can now hold your lectures and conduct examinations independently," he said
In his speech, Prof. Innocent Ngangah, Director of GS Unit, COOU thanked God for successful completion and delivery of the project as well as the VC under whose leadership the institution had attracted unprecedented infrastructure projects.
Ngangah said the project commenced about six years ago but encountered huge setbacks after it  was roofed due to lack of funds until work resumed in 2022 and concluded the same year.
He said the unit needed a dedicated information Communication Technology unit within the direct control of the GS Division to address cases of missing results, invalid login during GS examinations, and student enrollment problems.
The Director said GS results were uploaded online and forwarded to departments for computation.
"For the GS Division to function effectively, it needs to be autonomous in the sense of its ICT, the university needs to ensure that the GS Division has its own ICT facilities to enable it conduct hitch-free examinations.
"The reason for this integration is to engage and teach the students practical use of the library as well as introduce them early in their studies to the rudiments of research paper writing," he said.
Ngangah thanked the staff and students of the GS Division, and coordinators towards the completion of the project.