Menstrual Hygiene Day: Experts advocate early education, cheaper pads for women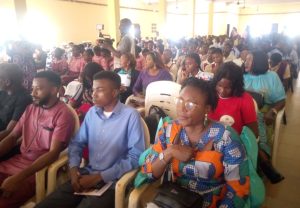 Dr Nkiru Ezeama, a Public Health Physician at the Nnamdi Azikiwe University Teaching Hospital, Nnewi has called for early preparation of the girl child to enable her face the reality of menstruation.
Ezeama made the call at a one-day Menstrual Hygiene Day organised by Creative Ladies Global Resources in Awka on Friday
Ezeama gave an example how her mother gave her sanitary pads whenever she was going to school at the age of 11 when she was in JSS1 but did not use them until she attained the age of 14.
She said the early introduction was helpful to her in dealing with menstrual realities and called on the parents and guardians to assist the child by talking to them about it early and providing sanitary pads to them when they needed it.
She said every girl child had the right to healthy menstrual life which was a natural phenomenon but lamented the impact of poverty on their ability to live a clean and healthy menstrual life.
Ezeama condemned the taboo attached to menstruation in developing countries, a stigma she said was denying the society of the 
"About 800 million girls menstruate daily around the world and over 500 million of them can not afford menstrual hygiene, they are 'period poor'.
"Most girls are so poor that they can not buy sanitary pads, they do not have water and bath soap: this can lead to urinary tract infection and other health challenges," she said.
In her keynote occasion, Prof Stella Okunna said there was need for Nigeria as a society to recognise that menstrual hygiene was an existential reality and accord it the attention it deserved.
Okunna, a foremost professor of Mass Communication urged girls to be positive and never lose their self esteem because of menstruation.
She advised Nigeria should emulate advanced countries where sanitary pads in trains, restaurants and public places where girls and women in menstrual need could easily access them.
"We are not doing enough, we need to first understand the concept of menstrual health so that we can appreciate its importance to society.
"It is nothing to be ashamed of, as a matter of fact, menstruation indicates that a girl child is maturing at a natural course," he said.
Mrs Maureen Okolieukwu, the founder of Creative Ladies Global Resources said the symposium which was in its fifth edition was part of the activities making this years World Menstrual Hygiene Day.
Okolieukwu said the practice of educating young girls about menstruation and giving out sanitary pads was to enable them understand the the change when it came and also equip them with techniques of coping with it.
She said the government should be giving out sanitary pads to girls the way they gave condoms to boys.
No fewer than 500 students who participated at the symposium went home with free sanitary pads each.
World Menstrual Hygiene Day is celebrated on May 28 every year.