Soccer Fans, Veterans Thrilled As Anambra All Stars Championship Kicks off In Awka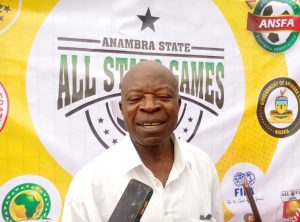 The Anambra All Stars championship for veteran and non professional footballers kicked off on Sunday at the football pitch of the Awka township stadium, Awka.
The championship is organised by the Anambra State Football Association (AnSFA) under the Chairmanship of Chikelue Iloenyosi.
Speaking at the opening ceremony, Sylvanus Okpala, a former Greens Eagles midfielder said the event waa a pleasant reminiscence of the good old days of Anambra in football and sports generally.
.Okpala popularly known as Quicksilver said he was pleaded to eee the rebirth of sports in Anambra under the administrative of Prof. Chukwuma Soludo.
The said he was impressed to see young men from different walks of life play for fun of the game and not necessarily for competitive purposes.
He said the return of school sports festival in Anambra was another exciting reality for him who who was not just a school captain at the primary and secondary school level but played for the Super Eagles while a student of Metropolitan College, Onitsha.
"I feel good about this, i came all the way from Lagos to see this, it shows that somebody who knows football is administering the game.
"When we where East Central State, majority if people representing it in sports were from Onitsha and Aba, sadly it down but thank God it is being revived.
"School Sports Festival ended yesterday, we are the pioneer products of school sports, i captained St. John primary school Fegge, I was Games Prefect and captain in Metropolitan College Onitsha.
"I was in school when i played for Under 20, I was in school when I played for Green Eagle and I was in School when I played for the famous Rangers Int'l of Enugu, so i am happy school sports is back in Anambra," he said.
Also speaking, Victor Nwangu, an ex Rangers Int'l players and former secretary of AnSFA said he was happy to see the return of sports culture in Anambra.
Nwangu, a veteran sports administrator commended the leaders of Anambra FA for keeping the football family in Anambra busy through attraction of high quality football matches and staging of activities regularly.
"I am happy to see this in my life time, i feel good seeing young men, women and even families coming to the stadium to entertain themselves with quality football matches," he saiid.
In his remark, Iloenyosi said the All Stars Football Championship which was first if it's kind was designed give active but non professional footballers sense of belonging and to keep the spirit of football alive in Anambra.
He said the Anambra FA gad a vision to optimise the facility at Awka stadium by making it the football capital in Southeast while assuring that his administration would continue to stage competitions for as long as it could.
The opening match of the Anambra All Stars championship ended 1-0 in favour of Awka Capital FC over Okpoko All Stars FC with a goal scored by TonyCollins Nwabunwanne, Commissioner for Local Government Affairs.
A total of 24 teams are taking parts in the maiden edition of the champions which was kicked off by Dr Onyekachukwu Ibezim, Deputy Governor of Anambra.