Erosion destroys property worth ₦200m at Rojenny Stadium—Ezeonwuka (videos)
Chief Rommy Ezeonwuka, Managing Director of Rojenny Stadium and Games Village, Oba, Idemili South Local Government Area has decried erosion menace which has destroyed property worth over ₦200 million within the facility.
Rojenny Stadium is the oldest individually owned Olympic Stadium in Nigeria and the only one in the entire Southeast  Geopolitical Zone of Nigeria.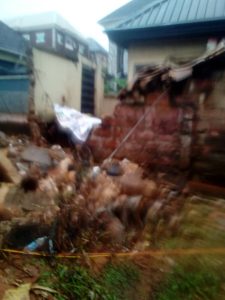 Ezeonwuka blamed the environmental disaster on the Stadium on the gully erosion control work going on at the Oba axis of the Owerri bound lane of the Onitsha-Owerri expressway.
The foremost sports facility investor said the flood path which led to the collapse of one lane of the road was blocked to prevent the collapse of the second lane, thereby diverting flow to the stadium.
According to him, my stadium which I built with my youthful energy for the development of youths in Nigeria is being destroyed by flood.
"As I am talking to you, property worth over ₦200 million have been ruined because flood water in the area did not hit the stadium.
"The control work going on has blocked the original channel which led to the collapse of one lane, now the entire flood is channeled to my Stadium," he said.
Also speaking, Johnny Obinnwa, the Manager of the stadium corroborated the account of Ezeonwuka.
He said every little rain now generate floods that rose above the culvert at the entrance gate because of concrete barricades that were used to stop vehicles from plying the collapsed portion.
"Water now pours into the Stadium from the expressway, our perimeter fences have all collapsed, the Ogilisi Garden is destroyed, the impact is much and cost is huge," he said.