APGA Apostles Forum Drums Party Values, Set To Embark On Nationwide Membership Drive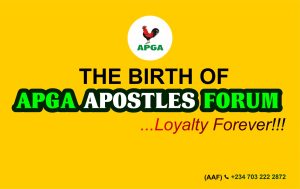 The APGA Apostles Forum (AAF) , a solidarity group under the All Progressives Grand Alliance (APGA) says it targets to increase the strength of the party with registration of new 500,000 in six months.
Chief Anthony Nchekwube, the Chief Apostle of the forum said this in a Statement made available in Awka on Friday.
Nchekwube described AAF as a social-political movement and we are determined and dedicated to keep moving APGA forward
said part of the group's aim was to propagate the core values of APGA and promote its candidates as they addressed some contemporary challenges of today's Nigeria.
He said AAF was determined to create new narratives and adapt to the rapidly changing political landscape of Nigeria and enable APGA to gain more public trust and become a vehicle for quality good governance in Nigeria.
"AAF has the vision to make APGA the party of first choice in the new era of political consciousness and inspire young people to be part of its political activities in Nigeria.
"We want to leverage emerging political structures through politics of development, reorientation and mass mobilisation in support of APGA candidates across Nigeria to win election.
"We shall begin with Anambra as our takeoff base and intend to achieve over 500,000 new members in the next six months," he said.