Doctors Now Prefer To Practice In Gambia, Sierra Leone As NMA Proffers Solution To Brain Drain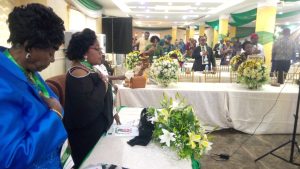 The Nigerian Medical Association (NMA) has called for the establishment of a Health Sector Development Bank as part of the measures to address the growing emigration of doctors and other professionals in the medical sector.
Dr Uche Ojinmah, National President of NMA made the call in a lecture at the Annual General Meeting (AGM) of the Anambra Branch of the association in Awka on Friday.
The theme of the AGM was "Mass Emigration of Doctors and Other Health Workers; Origin, Challenges and Solution".
Ojinmah said establishment of a specialty dedicated bank would encourage more private investment in the sector by providing concessionary and long term financing for health workers.
He said the National Youth Service Corps  had become a source of cheap labour for governors and should be made optional for medical school graduates.
He said private investments should be encouraged in the sector with government support as well as borrowing a leaf from the countries where the emigrating doctors find attraction.
He said there was no end to the outward drift of Nigerian trained medical professionals in sight with the current situation in the country including government's non commitment to agreement with doctors.
"Heath development bank should be established to provide funds for private sector to establish hospital at a concessionary rate with good moratorium for repayment
"There should also be graded disposal of public health institutions for profit over a five year period," he said.
Ojinmah said the exodus of trained young professionals was coming at a huge cost to the country and should be checked urgently and with sincerity.
He identified some of the factors influencing emigration of doctors as 
poor funding, stressful medical education including compulsory internship but non available space which often result in exploitation of young graduates. 
Others are poor remuneration, inter professional rivalry, insecurity, harsh economy, high cost of living and lack of incentive.
The NMA President said those going outside the country to practice may never return home and that Nigerians may wake up to realise that there were no more doctors in the country.
According to him, when a tout is lost to America, the country loses nothing but when a doctor is lost, it becomes a great loss of skills and resourcefulness to national development.
"Those leaving Nigeria may never come back, Gambia and Sierra Leone are now better  practicing locations than Nigeria for health workers, we now train doctors for export," he said.
Ojinmah said in spite the disadvantages, emigration of doctors had advantages including exposure to current development in the profession and remittances which had become a major external contributor to  the national economy.
On her part, Dr Jane Ezeonu, Chairman of NMA in Anambra said the 2023 was designed to address the topical issues in the healthcare sector as well as proffer solutions on how best to advance the profession.
She said the theme which was well dissected by the president should be a source of concern to all
According to her, in recent years, we have continued to record an alarming increase in the number of doctors and health workers who leave the country in droves in search of 'greener pastures'. 
"A very challenging and worrisome trend indeed, hence the choice of the theme for this year's AGM," she said.
Ezeonu who rendered an account of one year stewardship in office thanked members of the NMA in Anambra for their support and the national leadership for their mentorship.
She said the AGM which featured medical outreach, scientific conference, awards to deserving persons and exhibition would continue with young doctors, thanksgiving and time out with elders
On his vote of thanks, Dr Dubem Awachie no fewer than 120 personnel of the Nigerian  force in Anambra Command received free medical services under the NMA outreach programme where basic medicines and medical equipment were donated.
Awachie who was the chairman, Local Organising Committee of the 2023 AGM thanked all the participants from the national Secretariat and State government for making it a success.