Suspect Arrested With Guns Robbed, Raped Me, Lady Tells Police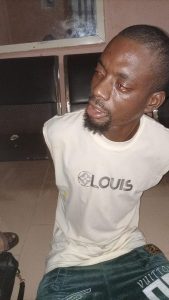 A man arrested by Police in Anambra for possessing guns has been identified by a 24-year-old graduate of Nnamdi Azikiwe University as the person who robbed and raped her at gunpoint in Awka on July 11.
She said the suspect alongside other fleeing gang members abducted her when she boarded a tricycle along Ifite to Aroma Junction on July 10, took her to a hotel i  the area, dispossess her of her personal belongings and raped her before was allowing her to go.
The victim also identified her phone among the phones recovered from the suspect.
The suspect however admitted to robbing the suspect at gun point  but denied the rape charge and provided names of his two accomplices.
"Two more Pistols have been recovered  from the suspect. 
"On seeing the Police publication, the management of the hotel where she lodged alerted the Police that the suspect was in one of the hotel rooms before his arrest at another hotel. 
"Detectives then proceeded to the hotel and searched the room where he lodged only to discover two more Beretta Pistols among his personal effects.
"Information has been received that the suspect is responsible for the murder of at least two persons in separate incidents in Awka in the last three months," he said.
Ikenga said the Commissioner of Police, CP Aderemi Adeoye had ordered detectives to leave no stone unturned in investigating in order to protect society and get justice for victims.