My Vision To Make Beach Football Frontline Sports In Anambra…Madubuko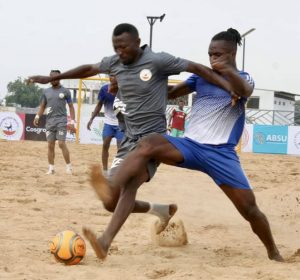 Victor Madubuko, the Chief Promoter of Beach football in Anambra has said that his dream was to make the sport the most preferred for athletes and sportsmen in the state.
Madubuko, an American based Professor said this in an interaction with sports writers in Nnewi on Thursday.
He said the Beach football activities would officially kick off as a competitive sports soon after the Anambra Beach Football Association was Inaugurated on Aug.25.
He said the  board would be saddled with the responsibilities of developing  Beach Soccer  in Anambra and ensure players got the best opportunities anywhere in the world.
He said Anambra was rich with prospective tenants and that the innovation would be another source of youth employment when fully developed.
He said the world was going Beach and Nigeria was fast keying into development noting that Anambra would not be left behind.
In his words " we have big plans for  Beach Soccer in Anambra,  personally I have a vision of getting youths gainfully engaged in various ways including sports.
"As you know Beach Soccer is about sports and entertainment, the two go hand in hand. Many people would be wondering how this will be possible since there is no Beach in Anambra.
"The answer is that we have a permanent site which will be converted to an artificial beach sand pitch of international  standard. Before now , we have been able to successfully organise a cooperate Beach Soccer championship  at Moonshine Residence Nnewi, were  we discovered that much interest of people for the sports," he said.
He noted that the board was planning for a state league  where players would be selected to participate  in the Nigeria Beach Soccer League. 
The board will Inaugurated on Aug. 25.