Anambra Distributes Computers To LG HoDs For E-data Management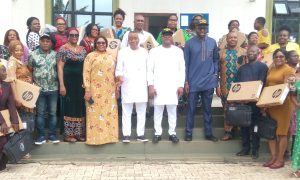 The Government of Anambra on Wednesday distributed laptops to the Heads of Department of Budget, Planning, Research and Statistics (DBPRS) across the 21 Local Government Areas of the State.
The laptops were handed over to them by Mr TonyCollins Nwabunwanne, the Commissioner for Local Government, Chieftaincy and Community Affairs who also declared the one capacity training open.
The training was organised by the Ministry in partnership with Anambra Information, Communication and Information (ICT) Agency
Nwabunwanne said the laptop was a work tool which the government was providing to facilitate their activities and improve their productivity.
He said the DBPRS is crucial to government because of the information it provided for policy making and urged them to make good use of the opportunity.
He thanked Gov. Chukwuma Soludo for transiting government administration from analogue to digital system of administration and going further to provide office tool for them.
He said the laptops belonged to the to the ministry of Local Government Affairs and they should handle them carefully.
"The government of Prof. Chukwuma Soludo is determined to improve your work environment and satisfaction, he is passionate about your welfare and has said that said that Local Government funds should be used for local government.
"Do not abuse the opportunity, they are basic work tools, we shall equip Local Government offices with furniture. Needs assessment is going on.
"The governor shall rely on the data you are going to generate, so be sure of your figures. Feel free to network, cooperate with each other and we will be available to provide technical support," he said.
He promised to organise regular training for them assuring that the government are working to see how we can support staff that are willing to own laptop.
Also speaking, Mr Chukwuemeka Agbata, the Managing Director of Anambra ICT Agency said his office was determined to help the governor archive his vision to digitise governance processes.
Agbata said the training was crucial as it would empower them with the knowledge of data management and data security.
He said the data could be stored in Anambra cloud and called up for purposes without running cap in hand over long distances for such information.
"Government will continue to distribute computers ministries, department and agencies according to availability and need," he said.