Ifitedunu: Soludo Says Nwoye's Tenure As President-General Valid Till Dec. 30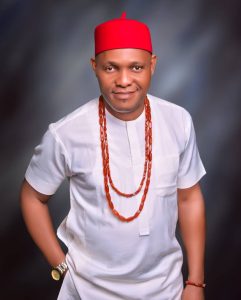 The government of Anambra says Chief Uchenna Nwoye remains the duly elected and recognised President General of Ifitedunu Community in Dunukofia Local Government Area until the expiration of his tenure on Dec. 30 this year.
Mr TonyCollins Nwabunwanne, the Commissioner for Local Government, Chieftaincy and Community Affairs said this in Awka on Wednesday while stating the position of the government on the Ifitedunu Town Union leadership crisis.
Recall that Nwoye had been under attack including physical assault on July 22 :by a few people in the community who wanted to sack him through unconstitutional means.
Nwabunwanne while reacting to recent media reports said the position of Gov. Chukwuma Soludo was that Nwoye who was elected on Dec. 30, 2019 should serve out his tenure as the allegations against him were found to be frivolous.
He said part of the allegations against him was that he killed an indigene of the town on July 16, 2021, an accusation he was arrested and detained for.
He said a court of competent jurisdiction had declared his arrest illegal and ordered perpetual injunction against further arrest because investigation and evidence showed he was in Abuja on the day of the alleged shooting.
"It was for these reasons that Mr Governor reinstated Chief Uchenna Nwoye and directed that he should serve out his tenure which will expire on Dec. 30, 2023.
"It will interest you to know that the President General emerged from an election conducted by prominent sons of Ifitedunu including Mr Ben Akabueze, the former Director General of Budget Office and Rev.Obiora (SAN).
"These people trying to create this non existent crisis not only opposed the President General's election but vowed to make the Community ungovernable for him despite the fact that he emerged through a valid election with overwhelming votes of Ifitedunu people," he said.
Nwabunwanne called on all parties to respect the order of court, decision of the governor and peace a chance