Moniepoint beat Moonshine 5-3 GP As Beach Soccer Kicks Off In Anambra.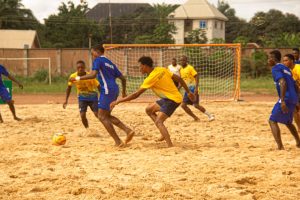 The Moniepoint male beach soccer team on Saturday beat their Moonshine Residence counterpart 5-3 to win the first official Beach Soccer match in Anambra.
The exhibition games held at Moonshine Residence, Nnewi came after the Anambra Beach Soccer Association Board was inaugurated in Anambra State.
The Moniepoint team sealed the victory after the three segments of the game.
In the female category, GP World Beach Soccer Team trounced their opponents, Overcomers Beach Soccer team 6 -1 to coast home with victory in the second exhibition match of the day.
The two games were to promote the culture of Beach soccer games in Anambra as well as the practical component of the training earlier taught by the national body of Beach Soccer Association in Nigeria.
Three different cultural dance groups thrilled the fans while light refreshments were served to make the Beach Soccer encounters a spectacle.
One of the enthusiasts,
Tochukwu Okoye said he never knew that Beach soccer could be played in Anambra.
He said his had thought that only the Whites could play the game and expressed gratitude to the organisers who brought the game to Anambra and Nnewi in particular.
On his part, Okwudili Swam, the Media Officer of Anambra state Beach Soccer Association said it was a sign of good things to come to Anambra sports family.
Swan said the board would come up with a programme that will keep lovers of beach soccer busy as time unfolded.