Draught, Ncho Games To Feature In 2023  Anambra Traders Sports Championship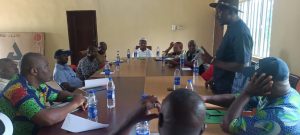 Two traditional sports, Draught and Ncho also known as Ayo will feature the first Anambra traders sports championship scheduled to hold between October and November this year.
The Main Organising Committee (MOC) included the two board games during its meeting in Awka on Thursday.
Patrick-Estate Onyedum, Chairman of Anambra State Sports Development Commission who presided over the meeting also inaugurated six subcommittees of the competition.
The subcommittees included Finance/Contact/Mobilisation, Technical, Media/Publicity, Ceremonial/Protocol, Administration and Venue/Facility/Logistics/Security.
Onyedum said the traders' competition which used to feature only football for men had been expanded to feature Football, Tennis and Table Tennis with Draught and Ncho as additional competitive games.
He said the championship was open to both men and women while calling on the markets to prepare their best athletes to represent them.
Onyedum who is the co-chairman of the Finance/Contact/Mobilisation subcommittee called on all the markets to register for the championship and that sumptuous rewards await the best teams at the end of competition.
According to him, we are not just playing football, tennis and table tennis, we are including Draft and Ncho which resonate well with our people in markets.
"Gov. Chukwuma Soludo is a man who wants the best for Anambra people, he has not only approved this competition, he has directed that we set a new standard in traders sports competition," he said.
Also speaking, Chief Humphrey Anuna, Chairman, Anambra State Amalgamated Traders Association, the umbrella body of all registered markets said traders were in full support of the championship.
Anuna who is the co-chairman of Finance/Contact/Mobilisation said there were about 102 registered markets in the state and that his association would ensure they took part.
"This is a good initiative, we are in full support of this competition and so far, it has been so good," he said.