Name Anambra Airport After Obiano APGA Stakeholders Urge Gov. Soludo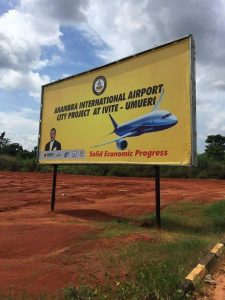 Stakeholders of the All Progressives Grand Alliance (APGA) have said that naming the Anambra Cargo and Passenger Airport after Chief Willie Obiano, the former governor of the state is the most befitting honour Gov. Chukwuma Soludo can do him.
The group under the aegis of APGA Stakeholders Forum said this following the naming of International Convention Centre (ICC) after Obiano by Soludo during the Anambra Investment Summit last week.
The stakeholders appreciated Soludo for deeming it fit to name critical public Facility in honour of Obiano but contended that the Anambra Airport was the most suitable for a man who served the people of  Anambra meritoriously and contributed to the prosperity of APGA by ensuring it formed the current administration.
They said airport was the greatest gift any governor gave to Anambra and it was only natural that it should go to the credit of the man who conceived and delivered it.
"The ideas of naming facilitate after governors is a very welcome one, we want to thank Me Governor, Prof. Chukwuma Soludo for naming the ICC after Chief Willie Obiano, the man who built the edifice.
"But, whatever is worth doing, is worth doing well, therefore, we the APGA Stakeholders Forum wish to call on governor Soludo to name the Anambra International Airport after Chief Willie Obiano, Akpokwefike Aguleri.
"This is the only way Gov. Soludo can write his name in the heart of every Anambra person because he has given respect to whom it is due. The Anambra Cargo and Passenger Airport remains the best legacy project that Chief Obiano built and left for our dear State," they said.
The APGA Stakeholders Forum commended Soludo for his governance strides in terms of employment and projects he had commenced since assumption of office while urging him to continue to endear the party to the people by delivering more people oriented dividends.